Councillor highlights National Grid concern over electric vehicle charging capacity at Warwickshire homes
Warwickshire county councillor Robert Tromans has told fellow members "what I hear from National Grid when I meet them is that they are frustrated by the fact that local developments – and I live in an area with very significant local development – are not having the infrastructure put in to facilitate charging at every single residence"
Watch more of our videos on Shots!
and live on Freeview channel 276
Visit Shots! now
A councillor has advocated measures to increase grid capacity on new housing developments to back up plans for more electric vehicle charging points.
Warwickshire County Council announced earlier this month that £3.295 million of government funding had been made available to create around 2,000 charging points on streets and car parks across the region.
The matter came up at this week's Resources, Fire & Rescue Overview and Scrutiny Committee meeting with Councillor Robert Tromans (Con, Weddington) supporting "a really practical way of reducing carbon".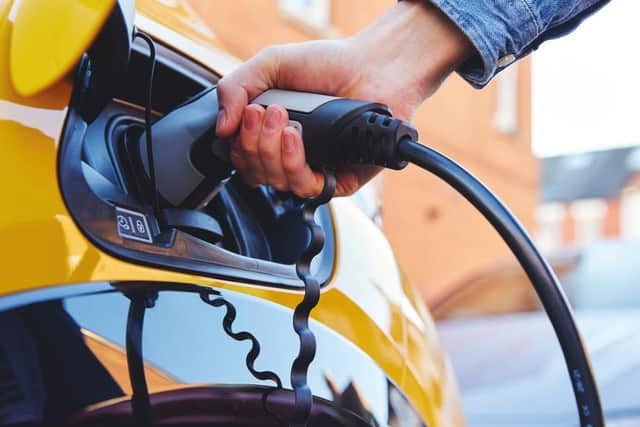 "It is much better than a lot of wishful thinking about modal shift and something that can happen on the ground today," he said.
However, he warned that capacity issues for home charging points could put the handbrake on plans to encourage people away from fossil fuelled vehicles.
"What I hear from National Grid when I meet them is that they are frustrated by the fact that local developments – and I live in an area with very significant local development – are not having the infrastructure put in to facilitate charging at every single residence," said Cllr Tromans.
"That is something that local authority planning teams have been quite slow to adopt.
"I am wondering if there are things the county can do.
"One would be to take the lead on this and suggest to individual planning authorities at the boroughs to ask for these things to be put in.
"Another would be whether the county could ask for some section 106 (money – funding paid by developers to help local infrastructure) which could be put to National Grid or whoever to provide additional infrastructure on these new developments, particularly where there are community centres, things like that, as well as the residential areas.
"Thirdly, can the council, where it commissions properties to be built, ensure that proper charging infrastructure is there?
"As I understand it now, even on new estates, once one person has a charging port fitted, the neighbour can't because the wiring won't cope with it.
"It can be remedied easily but the builders won't put it in as a matter of course because there is an additional cost. Maybe planning restrictions or 106 is the answer to that."
Steve Smith, a director in the council's commissioning support unit, replied: "We are in touch with National Grid, they have talked about weaknesses in the grid, needing advanced warning where they can see major development and how the grid can be reinforced.
"I am going to be able to bring some influence to bear on the local plans, so I take on board what you have said, Councillor, about how we can bring that forward for charging infrastructure.
"From memory, I think it is only Warwick District Council that is looking at net zero supplementary planning development, which would bring that requirement on developers to look at how charging could deliver their net zero aspirations but that is not universal across Warwickshire yet."