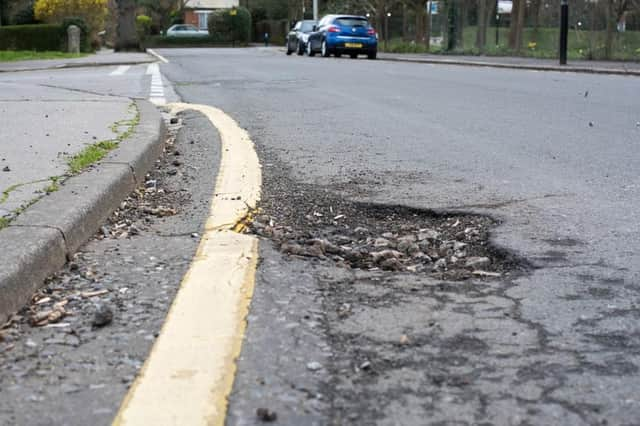 Warwickshire County Council will get almost £3 million of additional funds to repair potholes on roads across the county.
The authority has welcomed the news, which comes as part of the Chancellor's Spring Budget in which he announced an additional £200 Million to be included in the highways' maintenance and pothole repair fund bringing the total to £500 million.
For Warwickshire, this equates to an additional £2.874 million.
But campaigners nationwide have said this is not enough.
The county council says 'it has established a national reputation for swift responses to potholes and is consistently in the top ten of authorities in the country for customer satisfaction with road repair and condition, according to the National Highways and Transport Survey (NHTS)'.
Scott Tompkins, assistant director with responsibility for highways at the council, said: "Our highways teams across the county work hard to ensure that anyone travelling through Warwickshire, residents and visitors alike, enjoy the benefits of its excellent transport infrastructure. "This boost in funding for pothole repairs is a welcome addition to our capacity to deliver this kind of remedial work.
"One of the reasons that the county is so effective at tackling potholes is information on where they are so that we can carry out inspections and triage remedial action.
"The public plays an integral role in this and their input is key.
" I would like to take this opportunity to remind our residents that we have an online reporting tool where they can report issues such as potholes directly to us."
A recent NHTS public satisfaction survey, which can be viewed here https://bit.ly/3TlfjDL shows that Warwickshire residents are satisfied with the condition of the county's roads.
In regard to the national situation, The RAC's head of roads policy Nicholas Lyes said: "While welcome, another £200m is unlikely to make a big difference to the overall quality of our dilapidated local roads.
"We need to significantly increase funding for local road maintenance and improvement so councils can resurface roads properly rather than patching them up and hoping for the best.
"Last year the Government spent £1.125bn on local roads in England which is in stark contrast to the £7bn that went into major roads from car tax, despite local roads covering so many more miles."
Jonathan White, legal and compliance director for National Accident Helpline said the extra funding was "a step in the right direction" but didn't go far enough.
He added: "While the Government's extra funding for local road maintenance is welcome, it is unlikely to resolve Britain's pothole pandemic.
"British roads are littered with potholes, causing grave concerns over safety. It will take more than a one-off bonus to guarantee our roads are maintained to a standard that ensures lasting safety for all road users."