The Liberal Democrats have secured a ruling majority of seats on Stratford District Council in the local elections.
The Conservatives previously had 20 seats and a non-ruling majority of nine seats over the Liberal Democrats who had 11 for the authority.
But today the Liberal Democrats won 25 of the 41 seats available across the council's 36 wards – gaining 14 seats - while the Conservatives lost eight seats to leave their total at 12.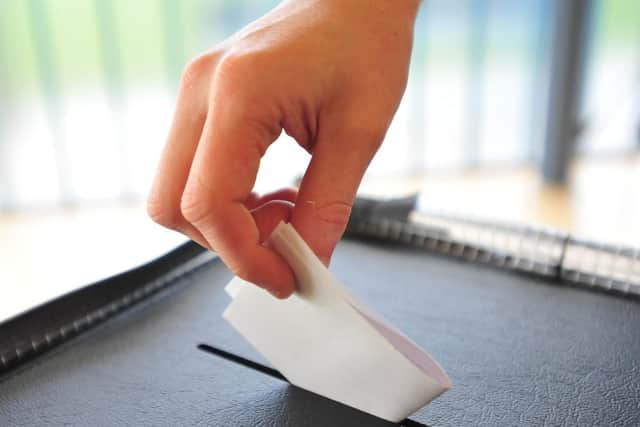 The Green party gained two seats to now have three on the council while independent candidates, who had previously held four seats on the council have now just one.
A notable loss for the Conservatives was that of the Welcombe Ward to Liberal Democrat candidate Roger Harding (726 votes) which was preciously occupied by council leader Tony Jefferson who received 437 votes this time.
The full results were as follows:
The results were as follows (current councillors are denoted by an asterisk * Current Councillors but representing a different or new ward are denoted by a +):
Emma Daniell – Local Conservatives - 194
Susan Juned* - Liberal Democrats – 548 Elected
Alcester West – Turnout 46.52%
Nicola Carpenter – Green - 31
Andrew Foster – Labour -362
Joseph Harmer - Liberal Democrats – 478 Elected
Gavin Smithers - Local Conservatives - 309
Bidford East – Turnout 31.06%
Julie Gilson – Green - 67
Daren Pemberton* - Local Conservatives – 355 Elected
Richard Vos – Liberal Democrats - 152
Bidford West – Turnout 30.96%
Cliff Brown - Liberal Democrats – 203
Paul Dempsey – Labour - 139
Georgina Evans-Goodrich – Green - 67
Bill Fleming* - Local Conservatives – 341 Elected
Bishops Itchington, Fenny Compton and Napton – Turnout 38.44%
Keith Bushnell - Local Conservatives - 672
Seth Colton - Green - 188
Natalie Gist - Liberal Democrats – 955 Elected
Christopher Kettle+ – Local Conservatives – 855
Judith Leask – Labour - 200
Matthew North – Green - 150
Nigel Rock+ - Liberal Democrats – 998 Elected
Brailes and Compton – Turnout 44.54%
Sara Billins – Liberal Democrats - 520
Sarah Whalley-Hoggins* – Local Conservatives – 612 Elected
Ronan Woods – Labour - 96
Claverdon and Snitterfield – Turnout 48.03%
Nina Knapman - Liberal Democrats - 93
Duncan Parker – Green – 753 Elected
Peter Richards+ - Local Conservatives - 367
Gaydon, Kineton and Upper Lighthorne – Turnout 34.51%
Rob Ballantyne – Green - 250
Toby Lee – Liberal Democrats - 259
Chris Mills+ – Local Conservatives – 874 Elected
Alan Scorer – Local Conservatives – 683 Elected
Nick Solman – Liberal Democrats – 158Brian Thomas (Labour) - 256
Angela Webb – Green - 238
Chris Baddon – Reform UK - 64
Linda Eastap – Labour - 91
Jacqui Harris* – Independent - 435
Susan Ostrander – Liberal Democrats – 533 Elected
Henley-in-Arden – Turnout 40.73%
Mike Rice – Liberal Democrats – 601 Elected
India Tibbs – Local Conservatives - 343
Bryn Turner – Labour - 101
Kinwarton – Turnout 43.63%
Kathrin Foster – Labour - 88
Lynda Harford - Local Conservatives - 437
Thom Holmes - Liberal Democrats – 739 Elected
Long Marston – Turnout 37.6%
Richard Cox – Local Conservatives - 223
John Keighley – Liberal Democrats – 505 elected
Helen Mitchell – Green - 45
Colin Parrott – Labour - 92
Marilyn Bates – Local Conservatives - 439
Dom Skinner – Liberal Democrats – 468 Elected
Salford Priors and Alcester Rural – Turnout 34.36%
Tony O'Hagan – Labour - 90
Lauren Stanley – Local Conservatives – 473 Elected
Michael Watson – Liberal Democrats - 193
Shipston North – Turnout 38.64%
Steve Albon – Liberal Democrats - 109
Olivia Hatch – Green – 607 Elected
Nicholas Turner – Local Conservatives - 245
Shipston South – Turnout 44.01%
Jo Barker* – Local Conservatives - 456
David Passingham – Green – 634 Elected
Southam East, Central and Stockton – Turnout 37.65%
Andy Crump+ – Local Conservatives – 573 Elected
Chris Lambert – Liberal Democrats - 228
David Watkin – Green - 85
Southam North and Long Itchington – Turnout 32.57%
Louis Adam+ – Liberal Democrats – 527 Elected
Nikki Bell – Local Conservatives - 179
John Hartigan – Labour - 58
Southam South – Turnout 28.81%
James Cordon-Cumming – Green - 81
Gillian Padgham – Liberal Democrats – 323 Elected
Richard Walters – Local Conservatives - 282
Southam West – Turnout 31.21%
David Booth – Liberal Democrats - 150
Tony Bromwich+ – Independent – 534 Elected
Stratford Avenue – Turnout 33.92%
Lorraine Grocott – Liberal Democrats – 353 Elected
Sherron Guise – Green - 166
Tim Sinclair – Local Conservatives - 276
Dan Wilkinson – Labour - 48
Stratford Bishopton – Turnout 39.51%
Victoria Alcock* - Liberal Democrat – 549 Elected
Jane Meehan – Local Conservatives - 267
Stratford Clopton – Turnout 39.95%
Jason Fojtik* – Labour - 315
Letty Petrovic - Liberal Democrats – 512 Elected
Juliet Short – Local Conservatives - 198
Stratford Guildhall and Bridgetown – Turnout 45.82%
Tony Dixon – Local Conservatives - 262
Jenny Fradgley+ - Liberal Democrat – 860 Elected
Stephen Michaux – Green - 52
Charlie Roe – Labour - 85
Stratford Hathaway – Turnout 32.32%
Liz Coles – Liberal Democrats – 330 Elected
Gill Forman+ – Local Conservatives - 102
Peter Pettifor – Green - 44
Lee Rhodes – Labour - 225
Stratford Orchard Hill – Turnout 46.23%
Ian Fradgley+ – Liberal Democrats – 722 Elected
Jacob Hill – Labour - 210
Krish Rengaraju – Local Conservatives - 350
Matt Rickett – Green - 73
Stratford Shottery – Turnout 47.01%
Sally Bigwood – Labour - 93
David Curtis* – Liberal Democrats – 863 Elected
Vince Herbert – Green - 92
Matthew Jennings – Local Conservatives 313
Stratford Tiddington – Turnout 46.72%
Helen Cooper – Labour - 59
Anthony Dennis – Green - 35
Kate Rolfe* – Liberal Democrats – 784 Elected
Amelia Tibbs – Local Conservatives - 195
Stratford Welcombe – Turnout 45.19%
Roger Harding – Liberal Democrats – 726 Elected
Tony Jefferson* – Local Conservatives - 437
Alastair Nealon – Labour - 92
Studley North – Turnout 33%
Wayne Bates – Labour - 82
Peter Hencher-Serafin+ – Liberal Democrats – 358 Elected
Justin Kerridge – Local Conservatives - 304
Studley South – Turnout 34.18%
Neil Edden+ – Liberal Democrats – 505 Elected
Alison Leask – Labour - 89
Jed McCrory – Local Conservatives - 288
Tanworth-in-Arden – Turnout 31.29%
Lil Johnston – Green - 77
Lynda Organ – Local Conservatives – 558 Elected
Karyl Rees – Liberal Democrats - 121
Bob Williams – Labour - 67
Tredington – Turnout 44.85%
Andy Fincham – Liberal Democrats - 499
Trevor Harvey+ – Local Conservatives+ - 537 Elected
Mike Wakesford – Green - 94
Allison Aves – Green - 129
Lynn Bowring – Liberal Democrats - 262
Anne Holland – Labour - 121
Malcolm Littlewood – Local Conservatives – 628 Elected
Welford-on-Avon – Turnout 49.32%
Manuela Perteghella* – Liberal Democrats – 928 Elected
Annabel Wade - Local Conservatives - 267
Wellesbourne East and Rural – Turnout 40.58%
Barnaby Briggs – Local Conservatives - 383
David Johnston – Liberal Democrats – 560 Elected
Simon Penson – Labour - 74
Wellesbourne North and Rural– Turnout 42.48%
Kevin Brown – Liberal Democrats - 502
Angelique Campbell – Labour - 114
Anne Parry+ – Local Conservatives – 581 Elected
Wellesbourne South – Turnout 42.64%
David Cowcher – Liberal Democrats – 555 Elected
Julie Fewins – Labour - 74
Danny Kendall+ – Local Conservatives - 379
Rebecca Sanders – Green - 41
Wootton Wawen – Turnout 35.95%
Chris Duffin – Green - 92
Dani Hunter - Liberal Democrats - 207
Ian Shenton* - Local Conservatives – 683 Elected