Mark Pawsey secured an adjournment debate on Friday, February 3, where he recounted the tale of Rugby School pupil William Webb Ellis, whose actions are celebrated as the birth of a game which, 200 years later, still bears the name of the town where he showed such fine disregard for the rules of football.
This year will see a host of events taking place to mark the 200th anniversary, with the school, the borough council and businesses coming together to celebrate the bicentenary.
These began on Sunday, February 5, with the start of the Global Pass on The Close at the school.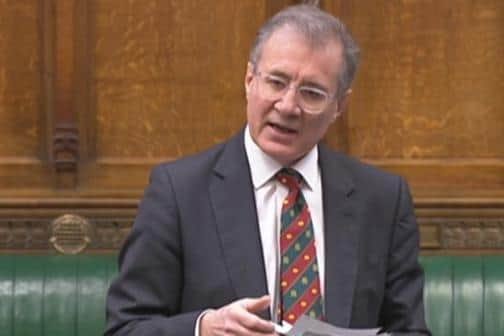 During his speech in parliament, Mr Pawsey also spoke about the impact that the sport of rugby has had through the voluntary and charitable work done by those involved with the game.
This includes the charities Wooden Spoon and the Atlas Foundation, and Premiership Rugby's HITZ programme which uses the core values of the sport to inspire and motivate young people.Speaking after the debate, he said: "At the beginning of the bicentenary celebrations of the game of rugby, I was honoured to be able to secure a debate in parliament to highlight the unique connection of my constituency – and my home town – to this game played around the world.
"Over 200 years, rugby football has developed into one of the most popular sports in the world with over 6.6 million registered players and it all started in our town. The bicentenary is a great opportunity, ahead of the men's Rugby Union World Cup later this year, to really show off the town's history and heritage.
"There will be a public festival of arts and education in the town throughout the year, special matches on The Close at Rugby School and then on St George's Day, we are going to attempt to break the record for the world's largest scrum – currently set at 2,586 people and we are aiming to have over 3,000 people take part.
"Rugby truly is a team game, bringing people from different backgrounds and abilities together and helping to transform lives across the world."