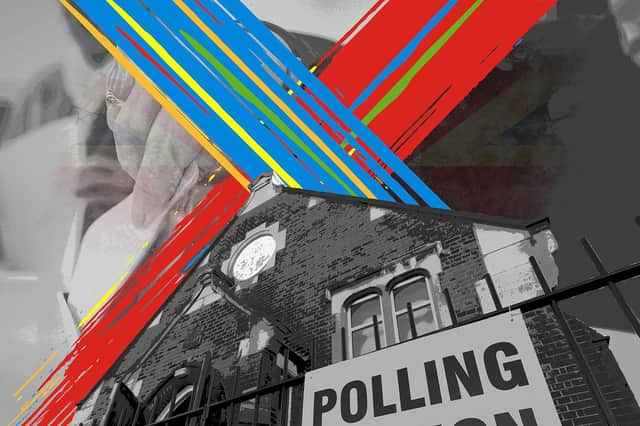 The Tories, who led a minority administration alongside Whitnash Residents' Association, saw 10 councillors lose seats with current leader Councillor Andrew Day (Bishop's Tachbrook) surviving by just five votes.
Cabinet member Councillor Richard Hales (Con, Kenilworth Abbey & Arden) held off Green candidate John Watson by 17 votes to cling on to the third seat in his ward with just six Conservatives claiming spots on the council for the next four years, meaning they relinquish power.
The Greens were the big winners, gaining six seats to become the biggest party with 14, while Labour also gained six overall to move up to 11 and the Liberal Democrats got one more to move up to 10. Whitnash Residents' Association successfully defended the only three that they contested.
As expected, no party emerged with a majority – the magic number would have been 23 – so the Greens now lead the way with negotiations over how a coalition or a rainbow cabinet – the team of councillors that will take charge of the major services provided by the council – may look.
Green leader Councillor Ian Davison (Leamington Brunswick) said: "We are delighted by how we have done, one person missed out by just 17 votes.
"Negotiations start now and we look forward to talking to other parties to see if we can find common ground."
Asked whether the Liberal Democrats would be the first port of call, Cllr Davison replied: "We have to see how we get on.
"The Lib Dems and Greens voted against the current budget that has a £3.5 million deficit. Balancing the books and keeping services going, efficient and professional is the first step before we move on to the other things.
"With the cost-of-living crisis, climate emergency and war in Ukraine, reducing heating bills is number one. We don't have huge amounts of money but the council has been unable to use some of the grants, giving them back. That is an appalling waste so we must do a lot more on that.
"There are lots of ways that we can make it easier for people to insulate their homes and reduce costs. Locally, congestion is a huge issue. It will be really tough but working with the county council, finding ways forward on that will be really important.
"There is a huge amount of house building going on and getting the right services in there will be important, and another challenge is the local plan which we need to find common ground on."
Liberal Democrat leader Councillor Alan Boad (Leamington Lillington) said he had been approached by the Greens and Labour and that whatever the make-up of the new cabinet, a united front – between and within parties – would be a must.
"The important thing is to have a policy platform that we can agree to and deliver," he said.
"That is crucial, rather than just drifting from one thing to the next. That is the danger if we don't row in the same direction.
"That could prove difficult with the Green Party because they say they are not whipped and don't always vote together. You cannot run an authority like that, you have to know where you are going."
On the result, Cllr Boad added: "We are very pleased. We had a strategy, we didn't quite pull it off 100 per cent but we got 80-90 per cent of what we wanted. It was not bad."
Labour leader Mini Mangat switched attention from Leamington Willes to stand in Warwick Myton & Heathcote, losing her seat, but was elected to Warwick Town Council.
She said it had not been a target ward for Labour on the district council and said the party was "absolutely delighted" with a net gain of six seats.
"We have more than doubled our seats and are really looking forward to seeing how we can make a difference to our communities," she added.
On the balance of power, Councillor Raj Kang, one of three Labour winners in Warwick All Saints & Woodloes, said: "We are in conversations with all parties.
"The Greens have more seats, we have 11, and it is all there for the taking."
As for the Conservatives, the outgoing leader of Warwick District Council, Cllr Andrew Day, insisted there would be no pity party among the Tories after losing power.
Cllr Day (Con, Bishop's Tachbrook), who survived in his own seat by just five votes after a recount, felt the loss of 10 seats Tories had been the result of national trends.
None of the three held by independents, who were voted in as Conservatives in 2019, were reclaimed either.
"It is democracy and this is what makes this country so great and so strong. We have to be prepared to allow the people to express their views," said Cllr Day.
"We have heard that today, I hung on – thank God – in a community that has changed a lot over the past four years and I am ready to serve.
"I don't think I would be alone in saying it has been a national response.
"For many people who have moved into our communities for the first time since the last election, they are voting on a national response.
"Many others – and we see it particularly in my seat – who have been there longer are more interested in some of the local issues so it will be interesting to see how it evolves.
"I am not pinning blame on the current prime minister. We have had a very tumultuous couple of years, coming out of Covid, et cetera. Our whole society needs a bit of reassurance and leadership and we just have to buckle down and get things done."
A widely-respected factor of Cllr Day's tenure was the way in which all party group leaders were invited to give views on decisions taken by the cabinet and he hopes those relationships will continue to benefit the authority.
"We established strong, cross-party working in the last council where there was no overall control," he said.
"That was based on mutual trust and respect between the political groups. We have a different cast of characters now but the leaders are broadly the same and if the leaders wish to continue in that way, I would embrace it.
"I think we do a lot more by working together than we do by playing petty party politics. Our residents demand results, they want to see things done."