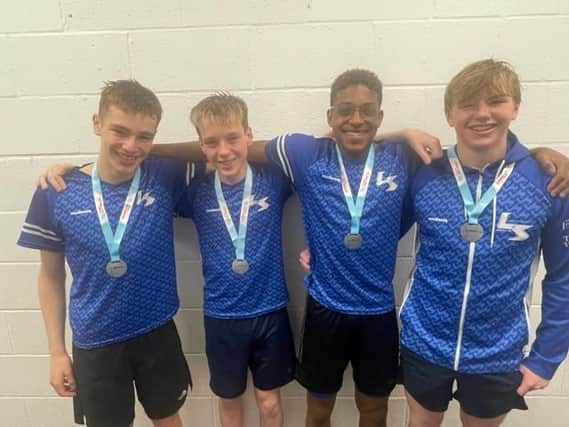 They recently competed at the West Midlands Summer Championships in Coventry.
Having achieved tough qualifying times, 33 swimmers (aged 12 to 19 years) represented the club, racing against top clubs from across the region. 18 Leamington swimmers qualified for finals, where they went on to win six golds, 10 silvers and seven bronzes, as well as one silver medal in the relay events. The swimmers also achieved 94 personal bests and set 13 new club records.
Annabel Crees (16) led the way with a dominant performance with a clean sweep in the backstroke events, winning gold in each of the 50m, 100m and 200m backstroke for her age group.
She was joined by Charlie Rounce (16) who won gold in the 100m butterfly and Andre Onyekwe (15) who took gold in the 50m backstroke in their respective age groups. Issey Cleary (12) was Leamington's youngest regional champion, taking gold in the 50m breaststroke.
Competition was fierce and drama was never far away, with some great personal bests being swum, and events being won and lost with fingertip finishes – such as Charlie Rounce who, while swimming a huge personal best and setting a new club record, came second in the 200m butterfly by 0.03 seconds!
The club also fielded a number of relay teams, with the 14-16 years 4x100m medley relay of Andre Onyekwe, Dan Wilks, Charlie Rounce and Ned Stevens picking up a silver medal, in a time that has qualified them for British Summer Championships in July.
The 4x100m freestyle relay of Andre Onyekwe, Charlie Rounce, Ned Stevens and Axel Martin also qualified for these Championships.
Head Coach, Graham Nash said "Well done to all our swimmers over the two long weekends of racing. I am particularly pleased with how well our younger swimmers raced, with special mention to 12 year-old Issey Cleary on winning her first regional gold.
"For our older swimmers, it was great to see their experience coming through, with many achieving qualifying times for the British and English Summer Championships, which take place later in the summer."