17 Ukrainian children kidnapped by Russian authorities and held in Kremlin camps freed and returned home
17 Ukrainian children kidnapped by Russian authorities and held in institutions in Crimea have been freed and returned home, officials in Kyiv say
Watch more of our videos on Shots! 
and live on Freeview channel 276
Visit Shots! now
A group of 17 children who were kidnapped by Russian authorities and held in Kremlin-backed camps for months have been freed and returned home to their families. It's been reported the group was taken to Russian-occupied Crimea when their towns were overrun by Moscow forces, and told their families abandoned them.
The children were returned home to their families on Thursday (March 23) with the help of a charity. Upon their return, the children told the charity how Russians beat them with iron rods if they voiced support for Kyiv.
The International Criminal Court issued an arrest warrant for President Vladimir Putin, as well as his children's commissioner, for war crimes over the forced deportations of 16,000 Ukrainian children.
The release has been praised by EU chief Ursual von der Leyen who said she would help organise a conference on securing the return of Ukrainian children taken to Russia amid the conflict. She told a summit of EU leaders: "It is a horrible reminder of the darkest times of our history, what's happening there to deport children. This is a war crime."
One of the teenagers who returned home said if they spoke out of turn they were beaten, saying: "We will take you to a boarding school, you will sit there and understand everything. One girl was hit on the back, she had a big bruise on her back from where the rod was."
He added. "We were sitting in the hall, and there someone shouted 'Glory to Ukraine!' and then someone answered 'Glory to the heroes'. They were taken away. But I don't know what happened to him.
The young boy also said: "They said that they would take us to Pskov... Somewhere in Russia, there is a boarding school, and there you will be adopted," he said. "But our parents didn't kick us out, like, you can't take us anywhere!"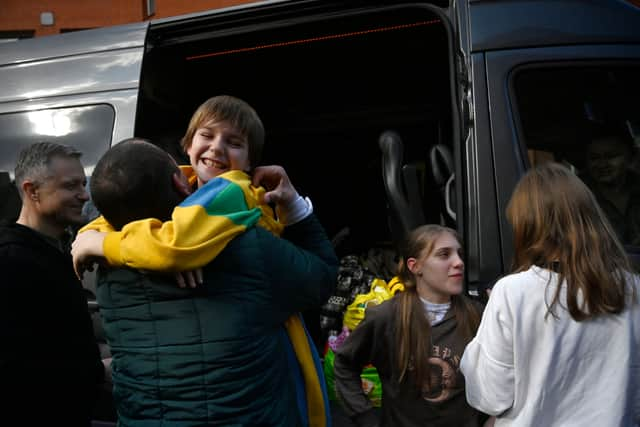 Just moments after arriving in Kyiv alongside other children, a ten year old boy was seen jumping into his fathers arms. The reunion was organised by Save Ukraine, an NGO that fights what it says are illegal deportations of Ukrainian children to Russian-controlled territory.