Box of old pots found in mum's house sold for £100k after they turned out to be Chinese Ming Dynasty antiques
A man was astonished when a box of old pots he discovered while clearing out his late mum's home sold for an eye-watering £100,000 - it might be worth checking if you have anything similar knocking around.
Watch more of our videos on Shots!
and live on Freeview channel 276
Visit Shots! now
A cardboard box full of old pots thought to be worth just £30 has sold at auction for more than £100,000. The items, which turned out to be antique Chinese treasures, were discovered by a grieving son who was clearing out his mother's house following her death.
The 67-year-old had no idea how much the boxed up plates, dishes and bowls were worth. In fact, he nearly donated them to a charity shop before deciding to get the mixed ceramics valued by auctioneers.
He expected to flog the collection for around £30 to £50 but was left stunned to be told some of the items could be worth between £4,000-£6,000. It emerged some of his late mum's old pieces of crockery were actually 16th century Chinese Ming Dynasty antiques.
The items then surpassed their estimates to fetch a whopping total of £112,190 when they went under the hammer at Hansons Auctioneers on March 30. The seller, a retired computer engineer who wished to remain anonymous, said: "I thought they might fetch a bit of money but didn't think they would be worth much.
"I took them along to Hansons Auctioneers for valuation and consigned them into auction expecting them to make around £30-£50. But later on I got a call from Hansons to say some of the Chinese ceramics in the box were worth more.
"They planned to put them into a different sale with estimates of £4,000-£6,000. I thought it was brilliant. I was pleased with that.
"What happened next was unbelievable. I watched the auction live online and the prices kept rocketing.
"I was shouting at the computer. My sister was watching live online from Australia and we were texting each other. We just couldn't believe what was happening."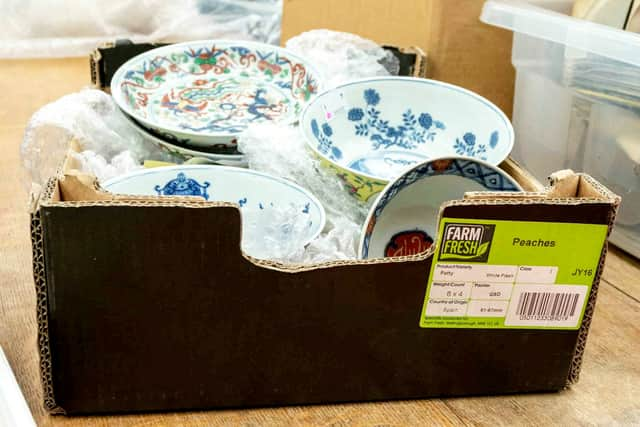 Despite chips, a set of four small dishes found at the home in Etwall, Derbyshire achieved a staggering hammer price of £63,000 from a £4,000-£6,000 guide price. Three phone bidders battled against the internet to secure the set and the total paid by a Chinese bidder, with buyer's premium, was £81,900.
They turned out to be Ming Dynasty wucai porcelain dragon and phoenix dishes.bearing six character marks in blue of the Wanli Emperor (1573-1620). An Imperial porcelain yellow ground medallion bowl, Daoguang (1821-1850), with a seal mark in blue, sold for £14,500 from a £1,500-£2,500 guide price.
An Imperial porcelain famille rose pink ground medallion bowl, Daoguang (1821-1850), fetched £8,800 and two bowls sold to a private UK buyer for £30,290. The seller said he had no idea how his mother, who passed away earlier this year, came to own Imperial Chinese treasures.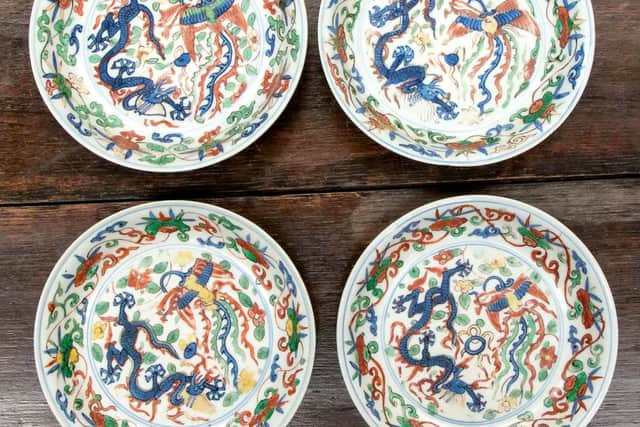 He added: "I grew up being surrounded by plates and dishes. Mum liked to display them on the walls. She would have had no idea the dishes were valuable.
"She inherited them from a chap she used to help to look after many years ago in Etwall, a former Rolls-Royce engineer. They were given to her as a mark of gratitude.
"They must have been on display in her home for 30 or 40 years. I'd been clearing mum's house and had considered taking the pots to a charity shop.
"Oddly, the ones I thought might be valuable weren't but the ones I thought weren't worth much were. I'm still recovering from the excitement of it all.
"The proceeds will be split between myself, my brother and my sister. I think I'll be treating my wife to a special holiday."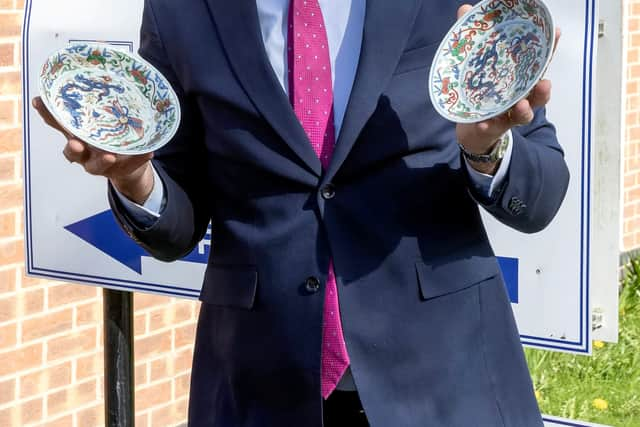 Charles Hanson, owner of Hansons Auctioneers, said: "I am absolutely delighted for this Etwall family. I spotted the Chinese items in a cardboard box in our saleroom after they had been consigned to auction by one of our valuers.
"They were originally destined for Hansons' monthly antiques and collectors sale but I knew they were important. They were validated by consultant valuer and Chinese ceramics expert Adam Schoon.
"He said what made the four dishes which achieved £63,000 particularly special was the fact they'd remained together as a set. They may have been used as altar pieces in a Chinese monastery or temple. They probably came to England after the First or Second World War.
"It was an unbelievable find and a tremendous result. It's wonderful to discover items like this on your doorstep. Our Derbyshire saleroom and company headquarters is in Etwall, the village where those treasures were tucked away for decades.
"This local find attracted worldwide interest, 10 phone bidders and a superb result for our client. That makes me proud. So, what's in your cardboard box? If you're having a spring clean, have inherited some pieces or you're handling a house clearance, never dismiss anything. Bring us your cardboard boxes and let us take a look."