Cost of living: 200,000 families missing out on free food vouchers - how to claim on NHS Healthy Start scheme
More than 200,000 households are missing out on free food vouchers worth £880,000, according to new research - here's how to claim them and how much you'll get.
Watch more of our videos on Shots!
and live on Freeview channel 276
Visit Shots! now
More than 200,000 households are missing out on free food vouchers amid the cost of living crisis, according to a recent investigation. The research, by consumer group Which?, found families were losing out on more than £880,000 worth of the vouchers.
The NHS Healthy Start scheme gives those who qualify a prepaid card offering between £4.25 and £8.50 a week, or between £17 and £34 a month, to spend on food for their families. But due to low take-up, around £45million a year of extra support is lost, Which? said.
The consumer group said that uptake of the scheme stands  at just 63.9 per cent which is very much behind the Government's target of 75 per cent for March 2023. A similar scheme in Scotland, the Best Start Foods scheme, has an estimated take up rate of 88 per cent by comparison.
Which says the £45million calculation is based on the lowest voucher amount of £4.25 going unclaimed each week by more than 207,000 families. In reality, the consumer group says "much more" could be going unclaimed.
Sue Davies, Which? head of consumer rights and food policy, said: "The Healthy Start scheme has potential to help many hard-up families who are struggling with the unrelenting cost of living crisis and have had to skip meals or use food banks as a result. However, poor take-up means millions of pounds' worth of help is going unclaimed.
"There is an important role for the government to expand the scheme and increase its value, but we're also calling on supermarkets to help customers by better promoting what is available and providing extra top-ups for those who use the scheme.
"Supermarkets also need to make it easier for all customers to work out which items offer the best value for money, by making sure their pricing is clear and easily comparable between items. Supermarkets must ensure everyone has access to basic, affordable food ranges, especially in areas where they are most needed."
What is the NHS Healthy Start scheme?
The Healthy Start scheme provides food vouchers to pregnant women and families with young children who are both on a low income and qualifying benefits. People who are eligible can use the vouchers to buy things such as fruit, vegetables, dairy milk infant formula and vitamins.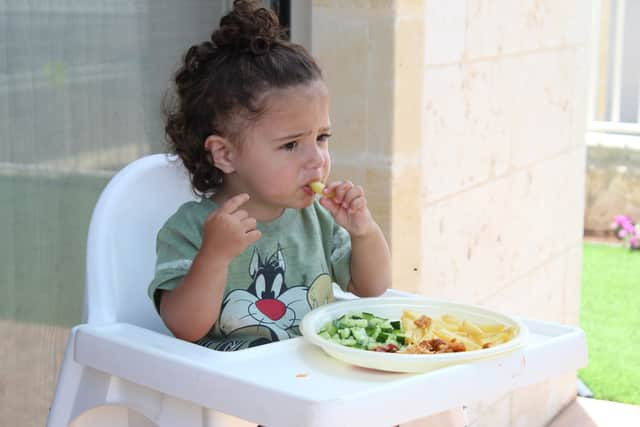 Who is eligible for the Healthy Start scheme?
The Healthy Start scheme is available to people living in England, Northern Ireland and Wales. You have to be more than 10 weeks pregnant to access the help or have a child under the age of four years.
To get the help you will also need to be claiming at least one of the following benefits:
Child tax credit - only if your annual family income is £16,190 or less
Income support
Income-based jobseeker's allowance
Pension credit - but only if you get the child element
Universal credit - if your family earns £408 or less a month in take-home pay from employment
You can also apply for the scheme  if you are under 18 years and pregnant, even if you're not claiming any benefits, or you claim income-related employment and support allowance (ESA) and you're over 10 weeks pregnant.
Scotland's Best Start Foods scheme has similar but slightly different eligibility criteria.
In Scotland, you can claim if you're pregnant or have a child under three years old.
How much can you get from the NHS Health Start scheme?
Those eligible for the scheme In England, Wales and Northern Ireland can get:
£4.25 a week for each week of pregnancy from the 10th week
£8.50 a week for each child aged up to one year old
£4.25 a week for each child between one and four years old
In Scotland, the amount you get paid depends on the age of your child.
£18 every four weeks during pregnancy
£36 every four weeks from your child being born up until they're one year old
£18 every four weeks when your child is between the ages of one and three years old
With pregnancies, the Scottish Government says the payment is the "amount per pregnancy" which means the money you get is the same whether you're pregnant with one baby, or if you are having twins or triplets.
Where can I use the NHS Health Start scheme prepaid card?
You can use your prepaid card in most places that sell milk, infant formula, vegetables and fruit, according to the NHS website. This includes:
supermarkets
convenience stores
petrol stations
grocery stores
drug stores and pharmacies
freezer and locker meat provisioners (for example butcher shops)
markets
dairy products stores
news dealers and newsstands
How do I apply for the NHS Healthy Start scheme?