Devastated groom reveals heartbreaking final words of wife killed by drunk driver on wedding day
Hutchinson, 36, has broken his silence on the tragic events that took place on April 28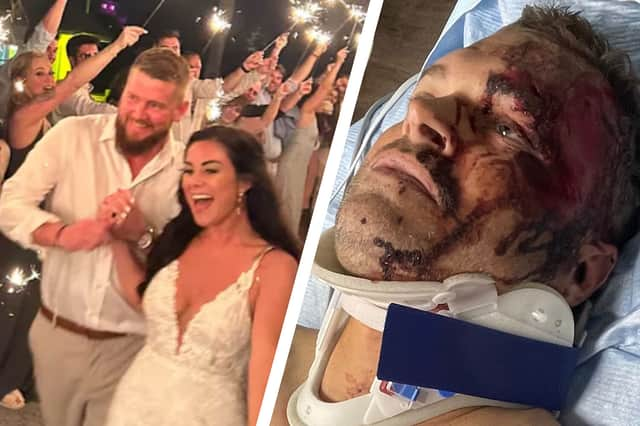 A groom whose wife was killed just hours after tying the knot has revealed her heartbreaking final words. Aric Hutchinson and his new bride Samantha Miller were hit by a suspected drunk driver moments after leaving their wedding reception.
Hutchinson, 36, has broken his silence on the tragic events that took place on April 28, which left him with life-threatening injuries. Aric's brother-in-law and nephew were also on board when they were involved in the catastrophic crash that killed Samantha, 34.
In an interview with Good Morning America, Aric addressed the fateful day and shared an update on his recovery and how he is managing his life following the loss. He said: "I'm still trying to wrap my head around it. That night, going from an all-time high to an all-time low, it's pretty rough to try to comprehend.
"She was so happy," he said. "I mean, planning a wedding, as most people know, is extremely stressful. And she just had a weird, like, calmness that night."
The pair left the reception to travel to their post-wedding property when 25-year-old Jamie Komoroski got behind the wheel and smashed into the back of the golf cart, throwing it 100 yards.
Komoroski had decided to drive her car after an alleged day of "bar hopping" and reportedly reached speeds of 65 mph prior to the accident. Samantha was pronounced dead at the scene while Aric was immediately hospitalised with broken bones and multiple brain bleeds.
Recalling the final words he heard from Samantha, Aric Said: "I do remember the last thing I remember her saying was she wanted the night to never end," ABC reports.
Komoroski was arrested and charged with three counts of DUI causing serious bodily injury/death and one count of reckless homicide.