Greggs has announced its new menu bringing a host of delicious hot food items and sweet treats to UK stores. The announcement comes after Greggs teased fans on Twitter with a post to say "guess what's back" at the end of January which sent Gregg's lovers into a frenzy of anticipation.
The new Greggs items range from hot-loaded wedges perfect for keeping warm during the cold months, to new vegan items for plant-based customers. The new menu additions are designed to offer Greggs customers even more variety from the on-the-go retailer.
A Greggs spokesperson said: "We are always exploring new opportunities to expand our menu and hot to-go offering, providing even more choice and variety throughout the day and as we extend our later opening hours across shops."
As well as three chicken wraps – a BBQ Chicken and Bacon Wrap, Sweet Chilli Chicken Wrap and a Hot & Spicy Chicken Wrap. Customers can also take their much-loved Southern Fried Potato Wedges up a notch, with Loaded Wedges topped with either Chicken Katsu, BBQ Chicken or fiery Vegan Chilli.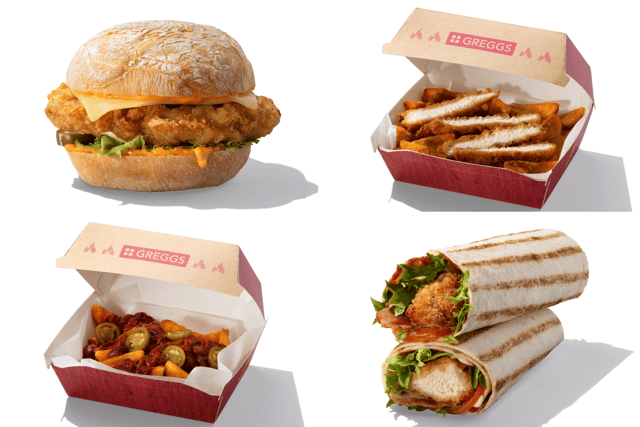 The new hot menu rollout follows the recent announcement of a range of new sweet treat offerings across the country including Hot Yum Yums, a twist on the classic Greggs treat and Hot Milk Chocolate Cookies. All treats are served with either a luxurious Salted Caramel Dip or a delicious Milk Chocolate dip pot.
The new hot menu items are currently being trialled in nine stores across the UK, but the new sweet treats are available at all 600 UK stores.
Greggs's new menu items
Chicken Katsu Loaded Wedges - £4.00
BBQ Chicken Loaded Wedges - £4.00
Vegan Chilli Loaded Wedges - £4.00
BBQ Chicken and Bacon Wrap - £3.50
Sweet Chilli Chicken Wrap - £3.50
Hot & Spicy Chicken Wrap - £3.50
BBQ Crispy Chicken Ciabatta Roll - £3.80
Mayo Crispy Chicken Ciabatta Roll - £3.80
Hot & Spicy Crispy Chicken Ciabatta Roll - £3.80
Hot Yum Yums (Contains 2 servings) - From £2.50
Hot Milk Chocolate Cookies (Contains 4 servings) - From £2.50
Gregg's new hot menu - where to buy
The nine shops which are trialling these new menu items are:
Newcastle – Sandy Lane Drive Thru
Longbenton - Quorum Business Park
Gateshead - Trinity Square
Durham – Bowburn Drive Thru
Washington - Peel Retail Park
Washington - Parson's Road Industrial Estate
Sunderland - Salterfen Retail Park