How to stay warm in bed without turning the heating up - expert tips as cold snap continues
As the cold snap continues, here's how to get warmer in bed according to experts
Watch more of our videos on Shots! 
and live on Freeview channel 276
Visit Shots! now
The cold snap continues with households across the UK waking up to frozen roads and car windscreens. Mornings can be particularly hard during winter making leaving your bed that little bit more of a challenge, especially in the midst of a cost of living crisis.
With heating costs soaring, getting warm in bed is not always easy, leading to reduced sleep quality. Since autumn, there has been a 63% rise in Google searches about staying warm, that includes 22,000 searches so far in January.
Luckily, experts from  French Bedroom have provided five tips to help feel warmer in bed, and they won't break the bank. From the material of pyjamas to updating a duvet's tog, the luxury bedroom retailer explains how simple updates can result in feeling much warmer and having a better night's sleep over the next few cold months
Georgia Metcalfe, founder and creative director of French Bedroom, said: "It is easy to feel lethargic when the alarm goes off on a cold morning, but by changing the tog in your bedding such as a lighter but warmer down or feather duvet and altering your bedwear to silk pyjamas, your quality of sleep will be much better.
"Small updates around your bedroom can also have a profound effect on making it cosy such as placing a warm rug on a wooden floor to prevent feet from being cold as this will also retain some heat that has risen up through the house. All of this will make you never want to leave your bedroom as you stay snuggly throughout colder months."
How to feel warmer in bed
Turn up the duvet tog
The optimum temperature for sleeping is around 18C. To reach this easily in winter, choose a higher tog duvet which will retain as much heat as possible.
Down and feather duvets have better thermal insulation than synthetic ones, with down the best natural insulator, providing up to three times more warmth.
Choose the correct pyjamas
For a cosy sleep choose a pair of pyjamas that are soft and provide comfort. One of the best materials to feel warm on cold evenings is silk, its natural protein fibres mean it is a good thermal regulator and keeps heat between the threads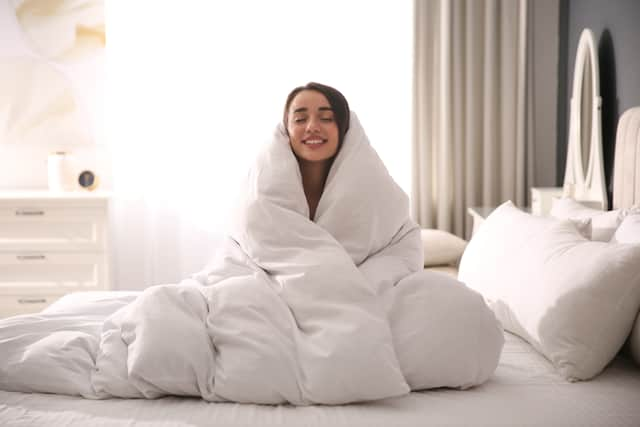 Take a bath before bed
Having a bath before bed can make you feel calm and restful. A bath will help regulate body temperature which if done immediately before bed will improve sleep quality due to releasing the hormone melatonin.
Only heat your bedroom
If you're off to bed and the heating is on for the whole house, you're wasting valuable money with rooms being heated that do not need it. Instead, focus on heating your own room and make sure windows and doors are closed to maximise temperature.
Sleep in fluffy socks
Nothing divides opinion like sleeping in socks. Wearing socks helps a process called distal vasodilation, which increases blood flow to your feet and allows you to fall asleep easier as body temperature is regulated better.