Jeremy Renner home from hospital after he almost died in snow plough accident: Avengers star updates fans
Jeremy Renner is reportedly well on the road to recovery after being crushed by a snow plough on New Year's Day.
Watch more of our videos on Shots! 
and live on Freeview channel 276
Visit Shots! now
Avengers and The Hurt Locker star, Jeremy Renner, (52), has returned home from hospital weeks after he was almost killed when he was crushed by a snow plough when it ran over the top of him. He was airlifted to a local medical centre where he remained until the last few days.
The much loved Mayor Of Kingstown actor took to Twitter on Tuesday (January 17) to tell fans he had been discharged from hospital and had returned home. "Outside my brain fog in recovery, I was very excited to watch episode 201 with my family at home," he said..
During his recovery, Renner has been vocal on social media, posting from his hospital bed just days after the accident to thank people for their well wishes saying: "Thank you all for your kind words. I'm too messed up now to type. But I send love to you all.". The Marvel star has undergone a number of operations during his time in hospital.
However, Renner's sister Kym, who has been by his side since the accident, told PEOPLE last week: "We are so thrilled with his progress. If anyone knows Jeremy, he is a fighter and doesn't mess around. He is crushing all the progress goals. We couldn't feel more positive about the road ahead."
However, a close friend of Renner's reportedly told RadarOnline that Renner's injuries are much worse than anyone knows and that he "nearly bled out" while waiting for help to arrive and that it could take 'two years' to fully recover.
A source told RadarOnline: "It's much worse than anyone knows. Jeremy is very aware of the fact that he almost died out there. The right side of Jeremy's chest was crushed, and his upper torso had collapsed. He also had a bad head wound that was bleeding and a leg injury."
The source continued: "Word is the damage to Jeremy's chest was so substantial it had to be reconstructed in surgery. So far, he's had two surgeries and he will likely require more in the weeks ahead on his leg. Doctors tend to space out operations to allow time for the body's natural healing process to kick in, and that's the case here."
During a news conference Sheriff Darin Balaam of Washoe County said the plough was being used to tow his car. Balaam also confirmed that Renner had been helping a family member who had gotten stuck in the snow. The Sheriff added that Renner had gotten off the plough to speak to the family member when it began to roll, and while the actor tried to get back into the driver's seat he was run over.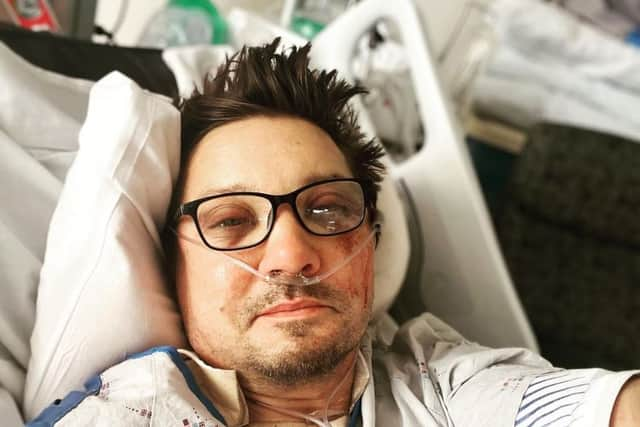 His family released a statement on January 2, 2023 that read: "We can confirm that Jeremy has suffered blunt chest trauma and orthopaedic  injuries and has undergone surgery today, January 2, 2023."
They said: "He has returned from surgery and remains in the intensive care unit in critical but stable condition. Jeremy's family would like to express their gratitude to the incredible doctors and nurses looking after him, Truckee Meadows Fire and Rescue, Washoe County Sheriff, Reno City Mayor Hillary Schieve and the Carano and Murdock families. They are also tremendously overwhelmed and appreciative of the outpouring of love and support from his fans."