Jeremy Renner opens up about accident on Jimmy Kimmel Live! And is declared 'toughest Avenger'
Jeremy Renner danced through his first late night appearance on Jimmy Kimmel
Watch more of our videos on Shots! 
and live on Freeview channel 276
Visit Shots! now
Jeremy Renner made his first late night TV appearance since his near fatal snow plough accident. The Marvel star appeared in good spirits, and showed off his incredible recovery on Jimmy Kimmel Live!
As Renner made his entrance on the stage he was met with a standing ovation. He danced his way across to host Jimmy Kimmel, who said: "This is ridiculous! Was this a publicity stunt?" to which Renner laughed and replied "Oh, absolutely!".
Once seated, Kimmel expressed his "Now if there was any question as to who the toughest Avenger was, that's settled now right? Forget Downey, forget Hemsworth, forget these guys - it's you! You're the guy." Renner shut him down quickly, retorting "Scarlett Johansson."
Kimmel added: "I think I speak for all of us when I say, thank God, look at you, you look great. It's good to see you here in the flesh." Renner appeared on the show to discuss his brand new Disney+ four part series Rennervations which sees the star recruit celebrity friends to repurpose service buses or trucks that are no longer in use and turn them into something local communities can use.
The 52-year-old gave his first sit down interview last week with Diane Sawyer about the accident, but told Kimmel: "It's like a giant metal - like cookie roller, right?' he said. 'And it just missed every vertebrae, did not hit any organs, membrane did not swell - my eye did pop out, that's weird. But I got pretty lucky that none of the organs got messed up."
It was confirmed on New Year's Day 2023 that Rennerhad been critically injured after being run over by a snow plough weighing more than 14,000 pounds. During a news conference, Sheriff Darin Balaam of Washoe County said the plough was being used to tow Renner's car. Balaam also confirmed that Renner had been helping a family member who had gotten stuck in the snow.
The Sheriff added  Renner had gotten off the plough to speak to the family member when it began to roll, and while the actor tried to get back into the driver's seat he was run over.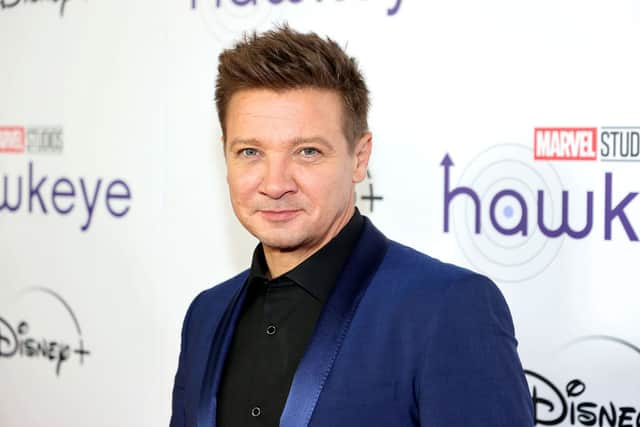 His family released a statement on January 2, 2023 that read: "We can confirm that Jeremy has suffered blunt chest trauma and orthopaedic  injuries and has undergone surgery today, January 2, 2023."
They said: "He has returned from surgery and remains in the intensive care unit in critical but stable condition. Jeremy's family would like to express their gratitude to the incredible doctors and nurses looking after him, Truckee Meadows Fire and Rescue, Washoe County Sheriff, Reno City Mayor Hillary Schieve and the Carano and Murdock families. They are also tremendously overwhelmed and appreciative of the outpouring of love and support from his fans."
At the time of the accident, Renner was trying to protect his nephew Alex and told Kimmel his initial thoughts were about his nephew's trauma witnessing the harrowing ordeal. He said: "I had to think about Alex's, because he was there during the entire time and he had his uncle Jeremy on the ground - I did not see any of this stuff, but the blood and the thing  and the eye, and all that stuff right? I had to see what his perspective was."
How to watch Jeremy Renner's Rennervations
Those hoping to catch the special can sign up via the Disney+ website. You can sign up for  £7.99 a month or £79.90 a year
DISCLAIMER: This article contains affiliate links. We may earn a small commission on items purchased through this article, but that does not affect our editorial judgement.