Madonna's knickers are set to make history as they are sold off in fractions as NFTs at $100 a piece
A pair of knickers worn by Madonna in the 1980s are set to make history as they are sold of in 300 pieces as NFTs
Watch more of our videos on Shots!
and live on Freeview channel 276
Visit Shots! now
Underwear worn by Madonna is set to make history as they are sold off in multiple bits as NFTs. The 'Material Girl' singer's knickers are up for sale as 300 separate fractions in the form of digital tokens for sale at $100 a piece.
The knickers were worn on stage by Madonna during her 1987 Who's That Girl world tour while performing the song 'Dress You Up'. Now, fans of the 'Like A Virgin' singer may be able to own a small piece of the superstar's underwear in what the sellers claim is the world's first fractional ownership NFT.
NFT is short for non-fungible token and is a technology proving who owns a digital object. The digital object could be a picture, a song, a video, a tweet or even a piece of land in an online video game or a virtual world.
The knickers will be sold as 300 fractions, all coming as NFTs, and buyers can purchase however many fractions they want. The seller, CollectorLabs, will launch the selling event on April 12 at 2pm.
Mike Hall, CEO of CollectorLabs, said: "Fractional ownership as an exciting new area for collectors. And we're going one better than the competition by creating each fraction as an easily-tradable NFT.
"That's great news for the global collector. Not only will Madonna collectors want to own your fraction when you come to sell, NFT collectors will also be keen to own it. It means tens of thousands more collectors for your slice.
"We're expecting huge interest in the knickers. Our pre-sale event was nearly sold out."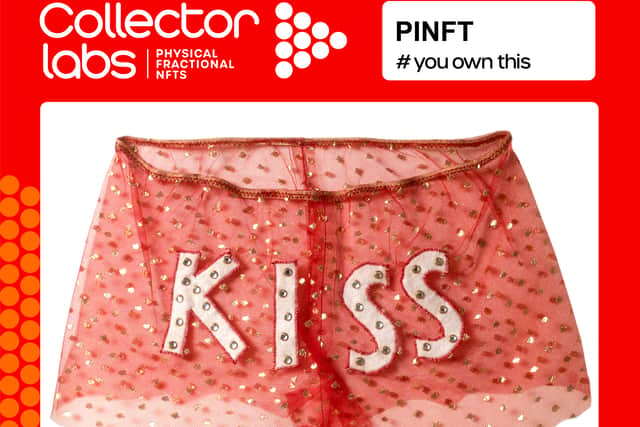 A spokesperson for CollectorLabs has said they plan to launch more fractional collectable NFTs later this year. This will include Gandhi's dinner bowl from his time in prison and Apollo 11 astronaut Buzz Aldrin's training spacesuit.