Man's lifetime collection of 400 irons from across the world tipped to fetch thousands as they go under hammer
The collector's obsession started in the late 1980s when an elderly lady gave him an old iron and suggested he used it as a doorstop.
Watch more of our videos on Shots! 
and live on Freeview channel 276
Visit Shots! now
A late grandad's quirky collection of 400 irons is set to fetch more than £10,000 at auction later this month. Martin Matthews spent 35 years building his incredible array of historic and vintage irons from around the world.
The retired gas engineer proudly displayed the irons at his home in Bury St Edmunds, Suffolk, which he shared with wife Trudy. Sadly, Martin died in March this year aged 65 and now Trudy, 61, is selling the irons - which include some dating back to the 19th century.
They are being auctioned in multiples, with a guide price of between £80 and £100, but could fetch far more when they go under the hammer. Trudy, a nurse and photographer, said she only discovered Martin's obsession with irons on their first date in 1997.
She said: "He duly invited me to dinner at his house and, when I got there, I was astonished to see a set of shelves, 6ft high by about 3ft wide, full of antique and vintage laundry irons. Apparently, it all started in the late 1980s when an elderly lady gave him an old iron and suggested he used it as a doorstop."
Over the years Martin bought dozens more irons off eBay and scoured antique fairs to add to his burgeoning collection. Trudy added: "Over the 26 years of our relationship and marriage, his collection grew to occupy a shelving unit that was 7ft high by 11ft wide.
"An entire wall In our lounge was covered in more than 400 irons. Not to mention the Victorian washing machine, the chain-driven mangle and the cast iron stove.
"He loved his collection and did lots of research and read books to improve his knowledge. We travelled extensively and he loved to find irons in countries we visited.
"We spotted them in Germany, Austria, the Czech Republic, Greece, Turkey, Canada and the United States. On our first holiday together, he saw an old iron in a shop on the Greek island of Skiathos.
"It was huge and weighed over 10 pounds. He desperately wanted it but was worried what customs might say at Gatwick Airport.
"It wasn't expensive so I said just buy it, put it in your hand luggage, say nothing and don't look suspicious when you walk through arrivals at Gatwick. So he did, and no one batted an eyelid.
"On another occasion when we were in Quebec City in Canada, having travelled there on the Queen Mary 2, we spotted two irons at an antique shop. He bought them but when we returned to the ship the X-ray machines spotted two large lumps of iron in his bag.
"There was a flurry of activity and several officers appeared wanting to know what they were. Martin gleefully said, 'they're irons, I collect them.' The security officers didn't understand this at all and said 'why?'
"Martin just said he liked them and that he had nearly 400 in his house, at which point, the security officers dissolved into fits of laughter and waved us through." In 2021 Martin was diagnosed with bone marrow disease myelodysplastic syndrome.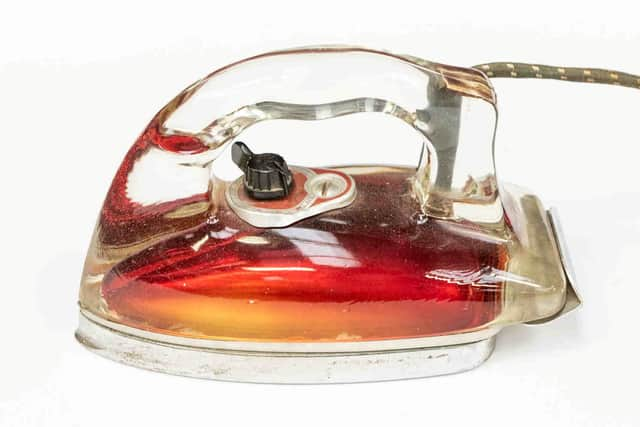 Despite the life-threatening condition he continued buying irons but in March this year he died leaving two daughters and six grandchildren. Trudy says she is selling the irons in the hope other enthusiasts enjoy them.
She added: "He knew that I would not keep the irons if anything happened to him." The first known use of heated metal to iron clothes was in China in the 1st century while the first electric model was invented in America in 1882.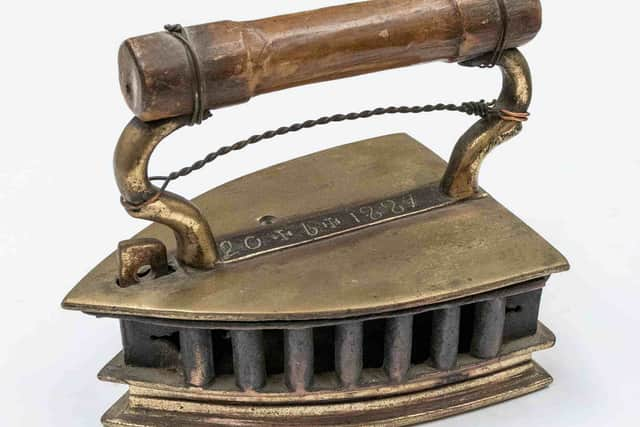 Bargain Hunt's Charles Hanson, owner of Hansons Auctioneers, said: "Irons sparked an historical journey for Martin that brought him joy for decades. His collection includes heavyweight antique metal irons which would have been heated up on a stove to early electric examples. His hobby captured the development of the iron as a household staple."
The irons will be sold along with a barrel washing machine and mangle at Hansons in Etwall, Derbysshire, between August 17-22.