Phillip Schofield latest: Key points and evidence as ITV bosses face MPs over This Morning scandal
MPs held a session this morning to quiz ITV's bosses over the culture at This Morning and the recent Phillip Schofield scandal.
Watch more of our videos on Shots! 
and live on Freeview channel 276
Visit Shots! now
ITV boss Dame Carolyn McCall gave evidence to MPs today over the broadcaster's handling of former This Morning presenter Phillip Schofield's affair with a younger work colleague. The chief executive of ITV faced questions from MPs in a session of the Culture, Media and Sport Committee.
Dame Carolyn's colleagues Kevin Lygo (ITV's managing director, media and entertainment) and Kyla Mullins (ITV general counsel and company secretary) also gave evidence at the hearing.
Last month, Schofield stepped down from his This Morning hosting duties after he admitted to lying to bosses and ITV co-stars about the affair. At the session, Dame Carolyn  was asked about the broadcaster's approach to safeguarding and complaint handling amid allegations of a wider "toxic" culture at the programme.
But what was said at the hearing? Here's the key points from the session.
What did ITV know?
Dame Carolyn was first asked about who knew the Schofield rumours before he confirmed the relationship. She responded by saying she knew about the rumours back in 2019 but when Schofield revealed he was gay in early 2020, the rumours intensified.
She said that was the first time things "got really febrile" before saying the "imbalance of power" made Schofield's relationship "deeply inappropriate".
"And we have policies that say that very clearly," she said.
However, she added ITV had no evidence of the relationship as she said "It was repeatedly denied by both individuals" and no one in the team came forward to say they knew anything about the relationship.
ITV bosses were concerned about Phillip Schofield's 'state of mind'
Dame Carolyn McCall said in the hearing that ITV were "very concerned about the state of mind of both Phillip and person X".
She explained Phillip was not in a good state and was worried about a social media backlash. Dame Carolyn then went on to add that Person X couldn't grasp "the media intrusion" before she said ITV bosses tried to work out what they could do to help the younger colleague.
ITV 'would never turn a blind eye' to serious issues.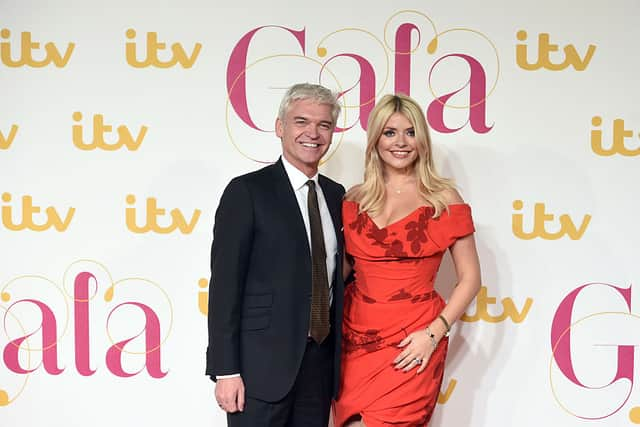 Dame Carolyn said ITV asked questions about the rumours repeatedly and were told multiple times nothing was happening.
"Our understanding and our information so far is that we could not have done this differently," she said.
"Nobody here or on the management board would ever turn a blind eye to something as serious as this."
Schofield 'is receiving counselling' following the revelations
McCall said "we've remained in touch with Phillip" and added that "he is receiving counselling".
She added Schofield asked for the counselling and also says ITV is funding it. She went on to explain "with Person X there's a whole series of duty of care" despite person X leaving ITV in 2021.
She said ITV gave "Person X" aspects of duty of care "as recently as last week".
Was there toxic culture at This Morning?
When asked about the allegations of toxic culture at This Morning, Dame Carolyn  said "we do not recognise that" and said the "vast majority" of people working there are "extremely engaged and very motivated".
McCall added when Dr Ranj Singh - who previously worked on This Morning - complained about the working culture on the ITV daytime show, she "asked for an internal investigation", which happened and "was not able to be upheld".
Person X was asked about relationship with Schofield 12 times
Dame McCall was asked about an earlier mention of "Person X" being asked about the affair 12 times.
She explained Person X was questioned over the rumours over a long period of time and "not in one go". She added there were a couple of formal meetings held with HR, but there were multiple informal meetings.
"The motive was to help Person X", Dame Carolyn explained.
When asked about what would've happened if the affair was admitted at the time, Dame Carolyn said it depends on the circumstances.
However, she added: "We would say this is a deeply inappropriate workplace relationship given the power imbalance".
Did Phillip Schofield play a part in giving person X a role at ITV?
The committee asked the ITV bosses: "Did Phillip Schofield have any role in helping the young man secure employment at ITV in the first place?"
Kyla Mullins replied by saying "Person X asked for work experience". She added Schofield passed on the details of who to contact at ITV.
Person X wrote on an application form that he was a "family friend" of Phillip Schofield, which no-one thought anything of. He went to carry out roughly two weeks of work experience and "impressed people".
Mullins then went on to explain Person X "was offered a short contract" in 2016 when he was 20-years-old, which soon became a "longer-term fixed contract".
Holly Willoughby and Phillip were paid the same salary
In the hearing, Kevin Lygo confirmed Schofield and his This Morning co-presenter Holly Willoughby were paid the same as each other for hosting the daytime show. He went on to add equal pay is now standard policy at ITV.
He said:"Phillip and Holly were on the same wage because they were doing the same job. "But [they were] probably not when they started, because she would have been junior and he was already well established.
"But we've made it a policy now that when people are clearly doing the same job, like panellists on a show or something, they should be paid equally."
Anonymous messages were read at the hearing
Politician and former ITV news anchor John Nicholson read out anonymous messages he's received from current or ex-ITV employees at the hearing.
One message talks about a boss who used to "shout and belittle staff" before adding: "It was a toxic environment".
Another message calls ITV a "terrible place to work".
Nicolson went on to read a claim which said if an employee complains about bullying or sexual impropriety, ITV only pretends to investigate. They added the broadcaster will decide there was no bullying.
Dame Carolyn  responded to the claims, saying the messages are"disappointing" and "deeply distressing to hear."
Person X received a "standard redundancy" package
Kyla Mullins confirmed Person X did receive a payout, but clarified it was a standard payment as his role had been made redundant following the pandemic.
She said: "He'd been on fixed-term contracts. It's an absolutely standard process.
"His settlement that he entered into was completely standard, formulaic, it was a redundancy."
As the hearing concluded, Dame Carolyn  said ITV were taking matters "seriously".
She said:"In every single thing that we've said, we've told you we're taking this seriously.
"We will take every allegation about our culture seriously, but I think it would be very wrong to depict ITV as having an issue on that."