Phillip Schofield scared to leave his home: This Morning presenter fears being spat at over affair scandal
Phillip Schofield has said he is now scared to leave home and fears being spat at after he admitted to to an affair with a younger man while working on This Morning
Watch more of our videos on Shots! 
and live on Freeview channel 276
Visit Shots! now
Phillip Schofield has said he now fears being spat at when leaving the house after admitting to an affair with a young This Morning colleague. The former television presenter, 61, resigned from the ITV flagship show last month before being dropped by his talent agency YMU.
Schofield admitted to having an "unwise, but not illegal"  affair with a younger male colleague whilst he was still married to his wife Stephanie Lowe. The television presenter had hosted This Morning for 20 years and admitted to lying to ITV colleagues, including co-host Holly Willoughby, who joined the show in 2009, claiming it was to protect the man he was having an affair with.
Speaking to the BBC on Thursday night (June 1), Schofield opened up about how the fallout from leaving the show had impacted his mental health. He said: "I do not know a time I will be able to walk out of the door. I don't have any spirit. My friends tell me, 'It will get better'. It won't. Not now. Not this one."
Schofield has admitted he feels he "deserves it" as the abuse is his "fault". He also admitted that he'd never previously suffered any major abuse from the public before and now fears he will be shouted at or even spat on.
Talking to The Sun, the television presenter said: "Are they spitting on me because I had an affair at work and lied about it?" In the interview with the BBC, Schofield compared himself to the late Love Island host Caroline Flack, saying he was "broken" and had "lost everything," which led to her mother Christine sending the presenter a heartfelt message.
Schofield has said he has not looked at any newspaper articles and has removed all news apps from his phone following the announcement of his affair. He also revealed how his daughters, Molly, 30, and Ruby, 27 haven't left his side.
The former This Morning presenter said: "If my girls hadn't been there, I wouldn't be here. Because I don't see a future. How much do you want a man to take? Are you truly only happy when he's dead? This is how Caroline Flack felt and it didn't stop."
Schofield admitted he knew he'd done something wrong and had "owned up to it" but said the criticism from trolls was "constant". He said: "A friend texted me this morning saying, 'Mate, this is relentless. What's the agenda? When is this going to stop?'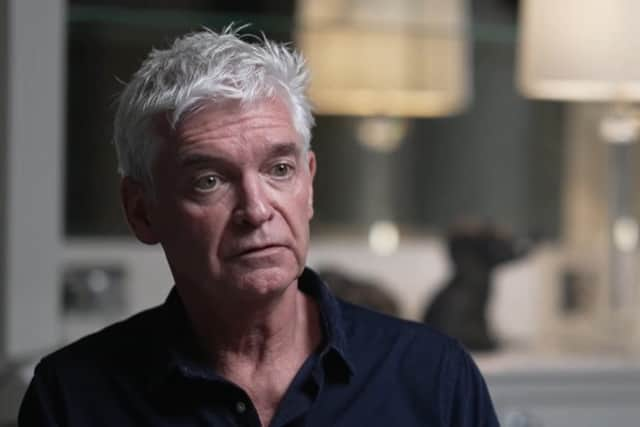 "Someone said you're being treated like Jack the Ripper and I haven't looked at a single thing. That would be the final push." On Friday's episode of This Morning, Alison Hammond broke down in tears after seeing clips of the BBC interview, saying that it was "painful" to watch.