UK emergency alert reaction: alarm goes off early, late or not at all for some Three users - latest update
The UK emergency alert went off on millions of phones across the country at 3pm - but not everyone got the message. Here's why.
Watch more of our videos on Shots!
and live on Freeview channel 276
Visit Shots! now
Tens of millions of mobile phone users in the UK received a message and loud alarm during the first nationwide test at 3pm. However, not all phones received the alarm as planned, with some users on the Three network not being alerted.
For some, the alarm went off early, at 2.59pm or late, shortly after 3pm. However, some users on Twitter claimed to not have received the alarm at all.
One Twitter user said: "I didn't even get the emergency alert. What's going on?" Other users complained about receiving the alert early, one said: "They did the emergency alarm early and I jumped!"
One Twitter said: "Someone please tell me why the emergency alert went off early!" While another said: "I hope those in charge of the emergency alert aren't in charge of the emergency planning."
The message which appeared on phones said: "This is a test of Emergency Alerts, a new UK government service that will warn you if there's a life-threatening emergency nearby.
"In a real emergency, follow the instructions in the alert to keep yourself and others safe. Visit gov.uk/alerts for more information. This is a test. You do not need to take any action."
Earlier today, new Deputy PM Oliver Dowden today told the public to 'keep calm and carry on' when the alarm goes off, and that they can simply 'swipe away' the alert once it has been received on their phone.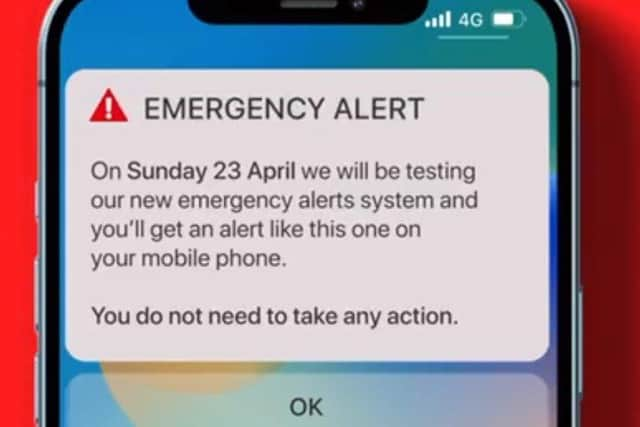 In the future, the emergency alerts may be used locally or nationally by the government or emergency services to send advice on how to stay safe or possibly when there is a danger to life. They will also focus on weather events such as severe flooding, fires and extreme weather
Three UK emergency alarm:
Some phones on the Three Network did not recieve the emergency alert as planned. In response, Three tweeted: We're aware that a number of customers have not recieved the test alert. We're working closely with the government to understand why and ensure it doesn't happen when the system is in use."