Touching moment bride recreates wedding at Grandma's care home after she was unable to attend big day
Hannah Macdonald-Ball surprised her grandma after arriving to her care home in her wedding dress
Watch more of our videos on Shots! 
and live on Freeview channel 276
Visit Shots! now
A woman whose grandma couldn't be there to watch her walk down the aisle has recreated her big day in her grandma's care home. Hannah Macdonald-Ball, 27, married her long-time partner, James Ball, 31, on May 1 2023.
Sadly, Hannah's 84-year-old grandma Hazel Clarke, who was diagnosed with Alzheimer's in 2021, was unable to attend the wedding due to mobility issues. Two months after the wedding, Hannah surprised her grandma at her care home by visiting in her wedding dress.
As she walked out to her grandma, Hannah was serenaded by residents singing "she's a jolly good fellow" and said it was a "really special day." Hannah, a wedding content creator from Leytonstone, said: "When we got engaged my grandma was well enough to come to the wedding.
"Unfortunately in December, she was diagnosed with Alzheimer's and her condition deteriorated really quickly and we decided it was best for her not to come. We got married in Scotland and she lives in Rufford, Ormskirk, so it would not be feasible for her to come to the wedding.
"It was a really special moment. I had worked up for this big day for such a long time. Putting on my veil and dress again was a really magical moment for me."
Hannah has been with her husband James, a wedding photographer, for six and a half years, with the couple getting engaged at sunrise in Loch Lomond in November 2021. The pair then tied the knot at The Cruin, Loch Lomond, surrounded by their family and friends.
Hannah said: "It was the best day of both of our lives. We had been planning it for a year and a half, we had such a lovely intimate day.
"All our favourite people were there, even the sun came out when it was forecast to rain all day." Sadly for Hannah, one of her favourite people, her Grandma Hazel was not in attendance.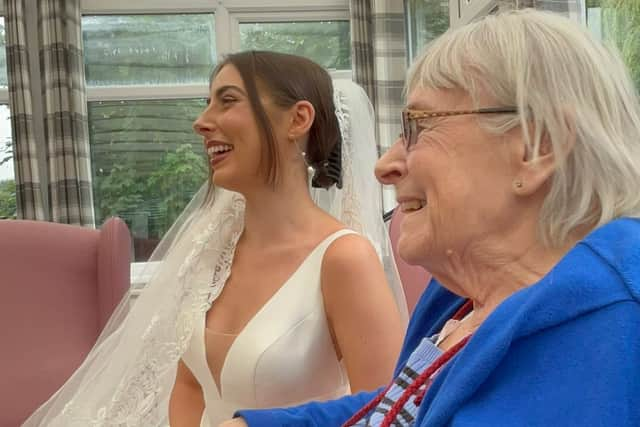 Hazel was diagnosed with Alzheimer's in December 2022 and has deteriorated rapidly since. Two months after her big day, Hannah called her grandma's care home and shared plans to recreate her wedding at the home.
She said: "We arranged to take prosecco and put some music on. I entered the room and everyone was signing she's a jolly good fellow and my grandma was really happy.
"She kept saying sorry that she couldn't be there and how beautiful I looked which was nice as she couldn't attend. Every time you get to visit a family member with an illness you never know what they are going to be like.
"The fact I was able to see her in my dress was really special and a lovely moment for us both. It was emotional, I will always feel sad that she wasn't there but it was the next best thing we could have done.
"We left feeling really positive. It was great for my mum too, not being able to have her mum there was really hard."