World Health Organisation could list Aspartame as 'possible carcinogen' - sweetener included in Diet Coke
The WHO could list artificial sweetener Aspartame as a possible carcinogen as soon as next month
Watch more of our videos on Shots! 
and live on Freeview channel 276
Visit Shots! now
The World Health Organisation could declare aspartame as 'cancerous to humans' in the coming months. The popular sweetener is used in popular products such as Diet Coke, as well as some food products.
WHO's International Agency for Research on Cancer (IARC) said in a statement: "The IARC has assessed the potential carcinogenic effect of aspartame (hazard identification). Following this, the joint FAO/WHO Expert Committee on Food Additives (Jecfa) will update its risk assessment exercise on aspartame, including the reviewing of the acceptable daily intake and dietary exposure assessment for aspartame."
According to WHO, the artificial sweetener has "possible" links to cancer. This doesn't mean the product directly causes the disease, however, there is evidence that links the consumption of it to people who have been diagnosed with cancer.
The NHS has already ruled aspartame unsuitable for people with rare condition phenylketonuria as it contains an ingredient sufferers can't metabolise. They say that while all sweeteners have to undergo rigorous testing before entering the food market in the UK it can still be dangerous.
Aspartame can be found in a number of products and is very common in those marked as "diet", "sugar free", "no" or "low calorie". Food and drink companies have been using the product since the 1980's a decade which saw the diet industry sky rocket.
The product is frequently associated with diet fizzy drink products such as Coke Zero, Pepsi Max and Sprite as well as diet cordial drinks and squash. It can also be found in instant coffee, sugar-free syrups and dairy free milks.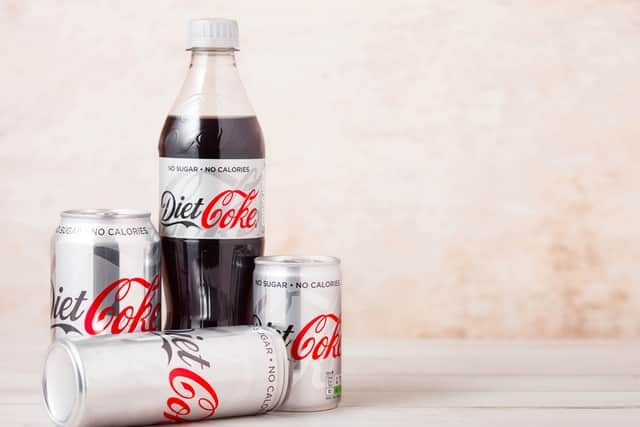 Aspartame is not exclusive to drinks and can be found in certain foods such as sugar free gum, frozen desserts, reduced sugar sauces like ketchup. It's also found in certain breakfast cereals and energy bars. The sweetener has also been added to medicines and supplements, including cough drops and vitamin gummies.