Solar power generators: live off grid - the best solar panel generators from Jackery, Anker, Bluetti, EcoFlow
Portable solar generators are a god-send if you're heading for off-grid living: an eco-friendly, reliable way of charging your devices on the move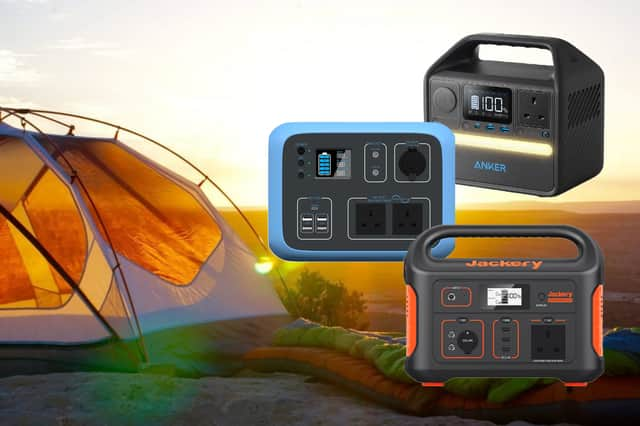 This article contains affiliate links. We may earn a small commission on items purchased through this article, but that does not affect our editorial judgement.
One of the most useful resources we can harness in the world is solar energy.
Developing technology has meant that over the years, we've been able to package up generators and power sources into smaller units, making solar generators incredibly useful to the consumer market, especially when it comes to powering and charging your devices when camping or on the move.
In this article, we'll be looking at a number of different styles of solar generators on the market at the moment, as well as compile a list of things to watch out for to ensure you find the right generator to suit your needs.
What solar generator is right for me?
This largely depends on the kind of activity you're doing and the kinds of devices you'll be powering, but the first thing to know is that there are a multitude of different units and generators, of all shapes and sizes, to choose from.
Their versatility however is one of their key strengths - our recommendation would be to choose a generator that has a fair bit of 'head room' for your devices, ensuring you've got enough surplus power available.
What size solar generator do I need?
Larger devices will be able to power things like fridges, power tools and televisions, and the smaller, more portable options on this list will be able to store enough power to charge devices such as laptops, cameras, smartphones and tablets.
With many solar generators, panels can be purchased separately, which enables the units to be topped up via the mains if required. There are alternative options available however, and we've tested and included a couple of options here that include the foldable panels with the unit itself, either in a suitcase-style carry case or foldable, extendable units.
Can a solar generator help keep my power on in a power outage?
Yes - depending on the energy output, solar generators can help keep the power on for devices around 240V. The means lights, electric heaters, ovens - what you need to keep your family life happily running during an extended power outage.
But you do need to keep the solar generator topped up to ensure the run time and energy is consistent during a blackout - so keep the solar panels in direct sunlight to capture energy.
What wattage should I look for in a solar power generator?
In terms of power available, look for as high as possible watt-hours, which determines the capacity of the battery pack. The running watts is the power that the generator can produce continuously - different device's requirements are normally listed on the devices themselves - you need to make sure the figures on the generator are higher than the requirements of the device.
Best solar generators at a glance
Get kitted out for your hiking and backpacking adventures
Here are our recommendations for the best portable solar generators on the market at the moment
Pros: * Mega capacity * Exhaustive ins and outs * Robust, outdoor design
Key Specs: Capacity: 1,516Wh (10.8V, 140.4Ah) Weight: 20.7kg/45.64lbs Measurements: 387x260x263mm/15.25x10.23x10.37" Solar: 600W Outputs: 2x AC output, 2x USB-A (5V, 2.4V), 60W PD USB-C, 2x 6mm, 12V car, 2x 12V power ports, 2x Anderson Power Pol (APP) Inputs: 2x Anderson Power Pol (APP), expansion port, WiFi (2.44Ghz), Bluetooth
If you've got aspirations of off-grid living, you'll need a solar generator that can produce enough power to run everyday appliances and tools.
The Yeti 1500X, although expensive, is one of the best on the market at the moment for this purpose - a charge controller means you're getting efficient solar power, which can also be topped up at the mains if you need, and the unit can happily offer power for tools and home equipment - including a full-size refrigerator if you need.
We'd also happily recommend this option if you're working on off-grid events.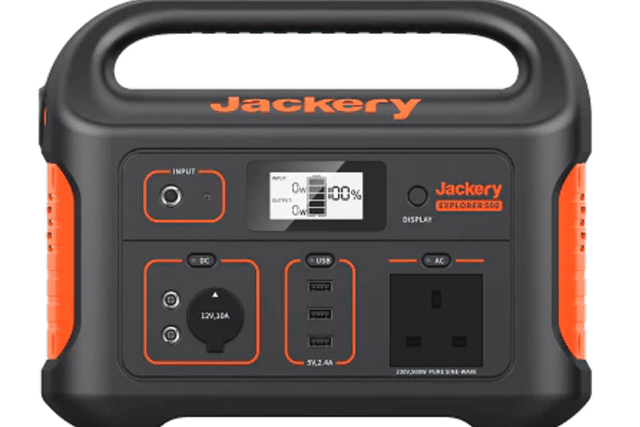 Pros: *Highly portable power station * Great value for money * Multiple ports * Great battery capacity
Cons: No inbuilt USB-C, USB-PD or wireless charging (can be done with adaptors)
Key Specs: Wattage 500 watts Item Dimensions LxWxH 11.84 x 7.59 x 9.2 inches Color Black Voltage 110 Volts Total Power Outlets 1
If you're looking for a power option that has a little bit more portability, weight is a key consideration.
The Jackery Explorer 500 is one of the lightest lithium battery generators on the market at the moment, featuring a 518 watt/hour battery and works well when paired with the SolarSaga 100W solar panels, as with many of the generators featured here, sold separately.
Power-wise, we'd be comfortable running smaller items with this generator like mini-fridges, airpumps, mini TVs and laptop and device charging.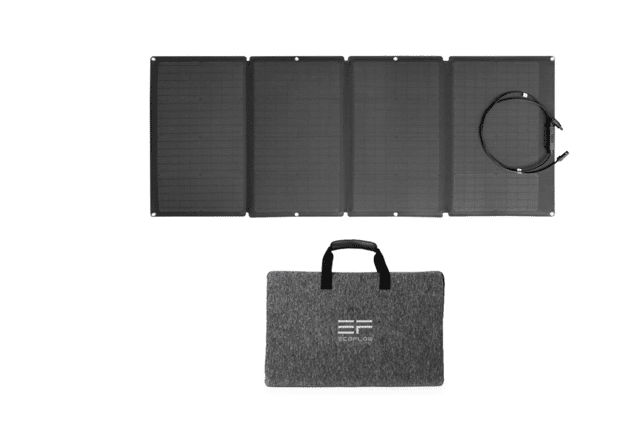 Pros: *Easy to set up, easy to use * Portable * Can be left outside
Key Specs: Material Monocrystalline Silicon Item Dimensions LxWxH 26.8 x 16.5 x 1 inches Item Weight 7 Kilograms Connector Type Solar Connector
The instantaneous approach to the EcoFlow 160W Foldable Solar Panel charger (to o be used in conjunction with an Eco Flow power kit such as the excellent River 2 Maxis one of its key selling points - once the panels are unfolded the power from the sun can be captured and used to charge devices within a matter of seconds, which makes it a great option for charging devices and equipment when camping or out in the wild.
It also featured IP67 dust and water resistance, and included a kickstand to stand it up to make the most of the sun, no matter where it is in the sky.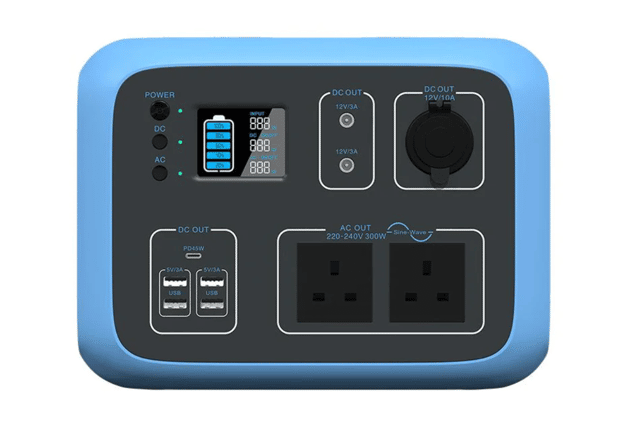 Pros: *Great power load * Lasts well * Doesn't overload
Key Specs: Wattage 300 watts Item dimensions L x W x H 29.5 x 19 x 19.5 centimetres Item weight 5.89 Kilograms Colour Orange Voltage 230 Volts Engine type 4 Stroke Total power outlets 2 Frequency 50 Hz
If your primary consideration is ensuring you've got enough charge in your devices, this is the one we'd choose for tech.
It is designed specifically to power drones, laptop equipment, cameras, mobile phones and tablets, and its size makes it a great option for camping and weekend trips away, or if you're carrying out a van build, for example.
Using a 120W solar panel (sold separately) it can produce enough power for about 4-5 hours of charging time.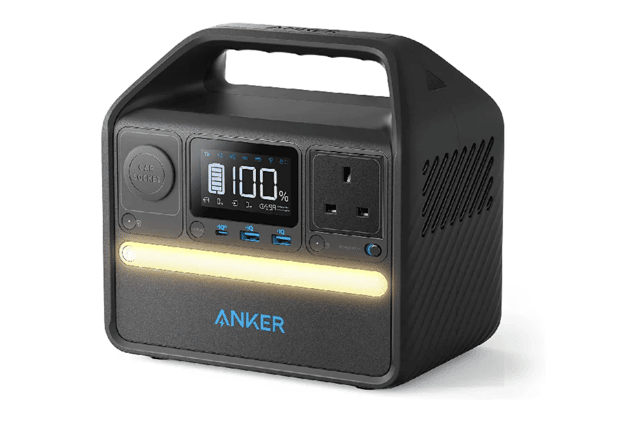 Pros: *Charges interval battery fast * Charges devices quite quickly * Large battery capacity
Cons: A little on the heavy side
Key Specs: Wattage 200 watts Item dimensions L x W x H 21.6 x 14.4 x 21.1 centimetres Item weight 8.16 Pounds Colour Black Engine type 4 Stroke Total power outlets 2
Equipped with LiFePO4 batteries, Anker claims that this generator offers a 6-times longer lifespan than generators using conventional batteries.
Whatsmore, they've added a 5-year warranty, so this is definitely the option we'd choose if longevity and long-lasting power is a key consideration.
We like the fact that it has a number of different ports too, so you can leave the adaptors at home - USB, AC power and car outlet power are all available.
It's also small, portable and whisper-quiet too, which is a welcome feature.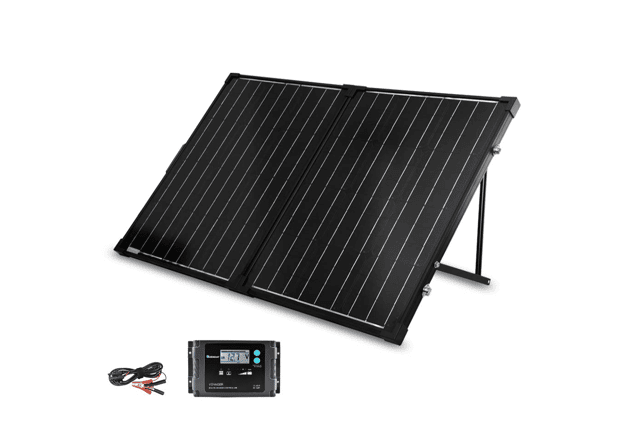 Pros: *Excellent build quality * Charges fast
Key Specs: Material Aluminium Item dimensions L x W x H 63 x 50.8 x 7.1 centimetres Efficiency High Efficiency Style 100W-Waterproof Controller
This is one of the smallest portable power stations we've seen on the market, but is a great option if space is at a premium or you want to take the power pack on adventures.
The solar panels ship with the generator and are folded away neatly in a suitcase, with a durable handle and rugged protective case.
It's easy to set up remotely in a variety of locations and Renogy and if you need a bit more power, Renogy also offers a 200W version too.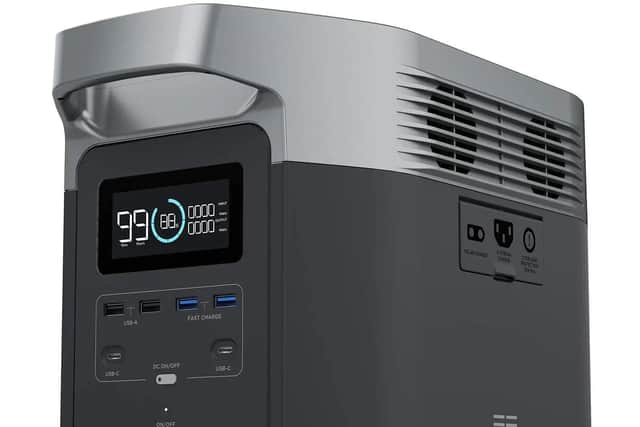 EcoFlow's DELTA Mini is about all you need in a power station. At 882Wh, it's not the most powerful model in the EcoFlow range and, at 11kgs, it's not light, but it's got some cracking specs. From an output point of view you get two 230v pure sine wave outlets, two 5v USB-A ports, a single 5-to-20v USB-C port and two 12.6V DC outputs.
Enough options, in other words, to power a wide range of devices and home appliances. Moreover, with X-Boost technology on board, the fast-charging DELTA Mini is capable of powering some hungrier devices like hair dryers and power tools up to 2200W. And if you pair it with the EcoFlow 220W Bifacial Solar Panel (£549) you'll get even more life out of it.
We used this model on a canal boat recently and it performed superbly well, saving our bacon when the boat's inverter ran out of juice because we'd failed to idle the engine to boost the boat's main battery. It kept the onboard TV and a pair of LED lamps going, and charged two iPhones in short shrift. And that's just what you want from a power station.