Women's winter running shoes UK 2023: 10 of the best ladies' trail running shoes from On, Adidas, Saucony
Our selection of the best women's trail running shoes won't let wind, rain or snow slow you down outdoors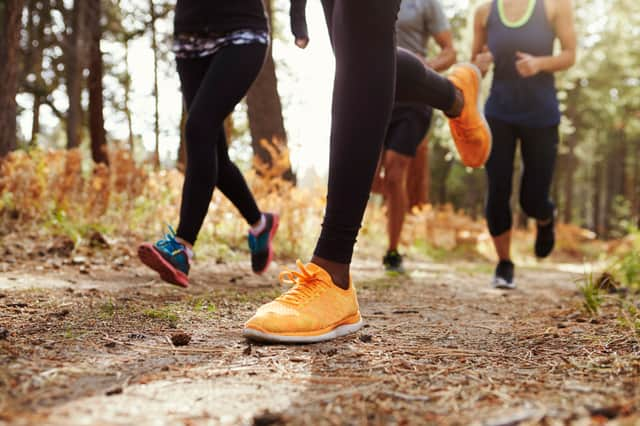 This article contains affiliate links. We may earn a small commission on items purchased through this article, but that does not affect our editorial judgement.
Love to run off the beaten track in the winter months? A great pair of cold weather trail running shoes is a must. Whether you're a seasoned trail enthusiast or are just getting started with off-tarmac routes, trail running shoes really are worth the investment – they're designed to be more rugged, grippy and weatherproof than on-road running shoes. And some models really stand out once temperatures drop, keeping you warm and dry even if you want to tackle trails in ice and snow – so there's no excuse not to head out the door to get some miles in.
Best women's winter running shoes at a glance
The best trail running shoes offer good grip, with deeper lugs (the indentations in the sole of the trainer) than a road shoe, so that they can tackle ice or slick muddy surfaces and help you move quickly and confidently on uneven terrain. Some trail shoes are also waterproofed with technology such as Gore-Tex, and a trail shoe with a waterproof fabric membrane will keep your feet dryer and warmer for longer, so weatherproof designs are highly recommended for winter.
Don't forget to check the fit of your new shoes. Cushiony inner soles and tough but bouncy outer soles will keep you running in comfort over long distances, and your new shoes should feel roomy at the toes and supportive at the heel, with no tightness or pressure anywhere when the shoe is laced up.
Expect to pay around the £100 mark for a decent pair of trail running shoes, although we've also included two good options for tighter budgets in our round-up of the ten best winter trail running shoes for women.
Read more of our exercise gear coverage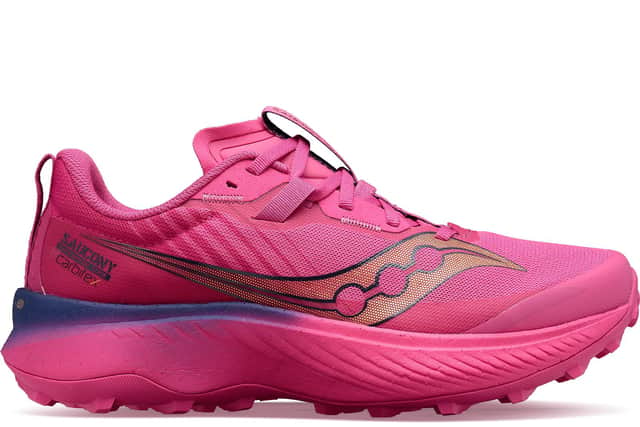 Despite being quite a stylish shoe (as far as trail trainers go), the Endorphin Edge is tough as nails – it's carbon plated, which adds stability and structure without extra weight, so you you get a hardy but springy shoe underfoot.
Big chunky soles and a foam inner sole make the Endorphin Edge very bouncy and comfortable to wear all day – this shoe is designed for long distances and endurance runners. We'd probably choose the blue hue over the bright, medicine-coloured pink version, but that's just personal preference.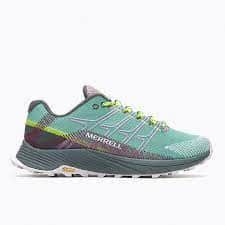 Pop Merrell's Moab Flights on your feet and the first thing you'll notice is how padded and comfortable they are – the Flights feel like you're wearing your favourite pair of casual trainers, and you might end up wearing them nigh-on everywhere.
That said, they are trail ready, sporting Vibram soles with decent grip. These trainers really stand out for the warmth they trap in, so they're perfect for dry winter days (you'll need to swap to a waterproof shoe for wet runs). We also like that they're made from 70% recycled materials and are vegan-friendly.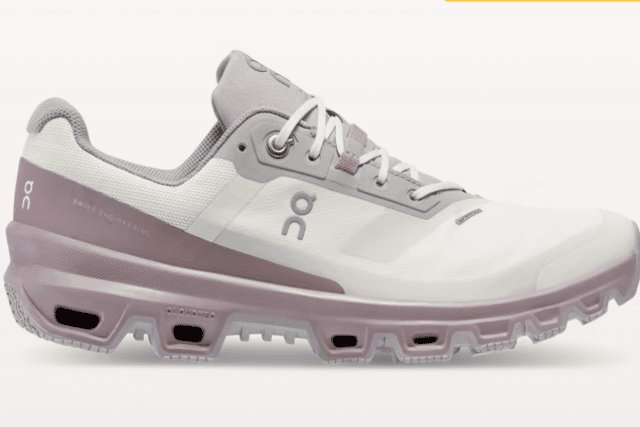 The Cloudventures feel as comfy and cushiony to wear as they sound – if you find most trail trainers unpleasantly stiff and solid, you'll love this liberating design, which hugs the foot nicely thanks to a thick insole and wide outer sole.
These elements work together to feel bouncy and light underfoot as you run, and deep lugs are designed to stay mud and rock-free while still gripping the ground, so you can go far without any slips or trips. The Cloudventure is fully waterproof, so you can tackle rain and snow. Top marks.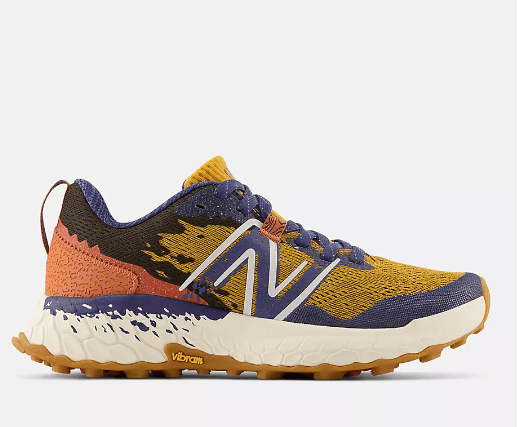 There's lots of great stuff packed into the Fresh Foam X Hierro. Gore-Tex provides full reliable waterproofing from rain, sleet and mud, the generous rubber sole feels springy and these shoes stand out for great grip, thanks to Vibram soles that we found could deal with icy surfaces and muddy trails without an issue.
Two widths of this design are available, to help you find the right fit, and we also love how fun-looking these bright trainers are – you'll definitely be tempted to wear them casually when you aren't out training.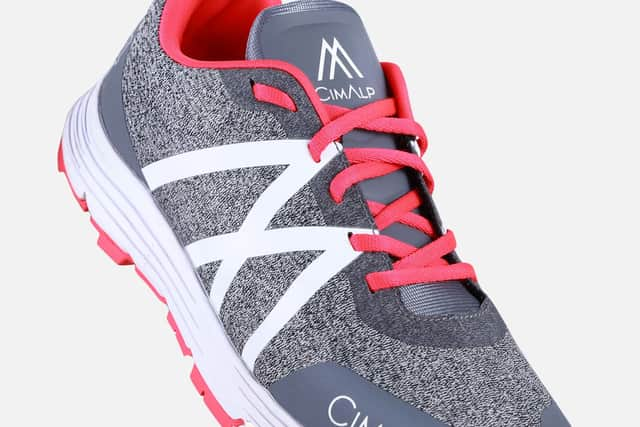 Cimalp's clever 860 Drop Evo for women comes with three pairs of insoles, allowing you to switch downwards from an 8mm to a 4mm drop (also known as offset - different drops will suit different strides and surfaces).
This is brilliant if you're getting into running more seriously and want to work out what your natural stride suits. We always rate Vibram branded soles when testing out trail running shoes and hiking boots, and Cimalp's are no exception, offering reliable grip even on wet, uneven ground.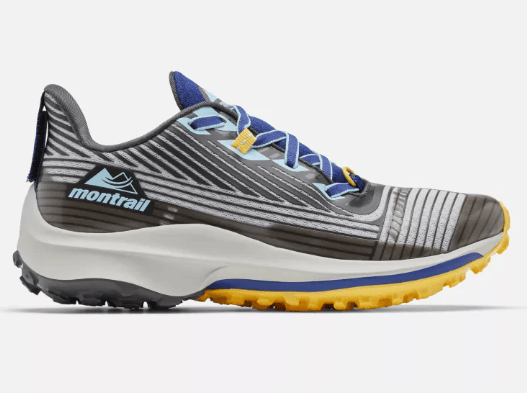 Described by fans as a 'tank' of a shoe, Columbia's feels solid, sturdy – and supremely comfortable. On test we loved the cushiony feel of this trainer, which feels light underfoot even on long distance runs, with no discernible drag or heaviness.
The Montrail runs large, so consider ordering a size smaller than your usual. The Montrail offers decent grip and a good balance of warmth and breathability but no waterproofing, so save it for cold clear days.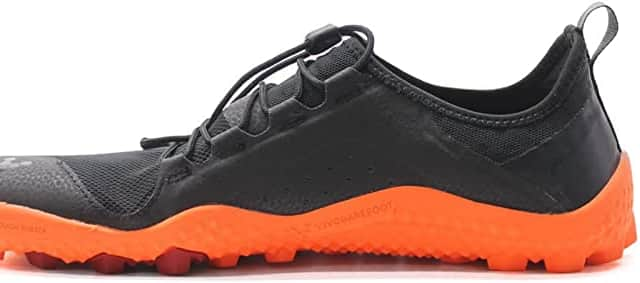 Ever heard of 'barefoot' shoes? They're footwear designed to come as close as possible to how it feels to walk naturally with no shoes at all, while still offering protection from the elements.
Vivo Barefoot's Primus Trail III SG shoe has a tough but flexible sole that has been designed with trails in mind, coupled a snug sock-like collar that keeps grit and dirt out of your socks. While it isn't waterproof, this vegan shoe drains fast, so it's still suitable for shorter runs in the rain.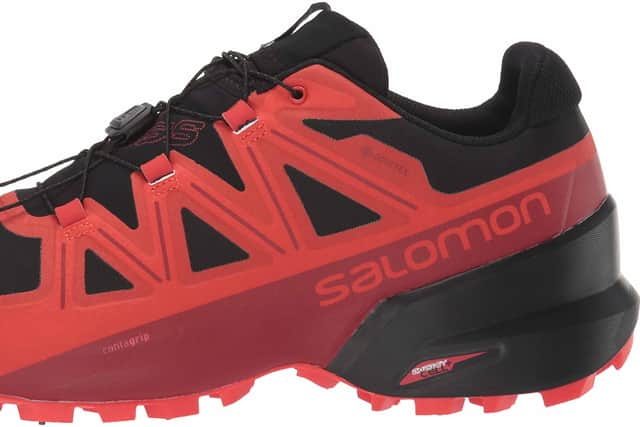 All hail the Spikecross – an excellent winter trail shoe that excelled on test. The Spikecross has well-placed lugs that grip without getting clagged with mud and studs similar to those on football boots that give fantastic grip even on the slipperiest icy surface (but aren't suitable for use on tarmac, these are strictly trail shoes).
Gore-Tex keeps even heavy rain and snow at bay. If you regularly run on ice and snow or are into winter mud runs, these shoes will be a game changer.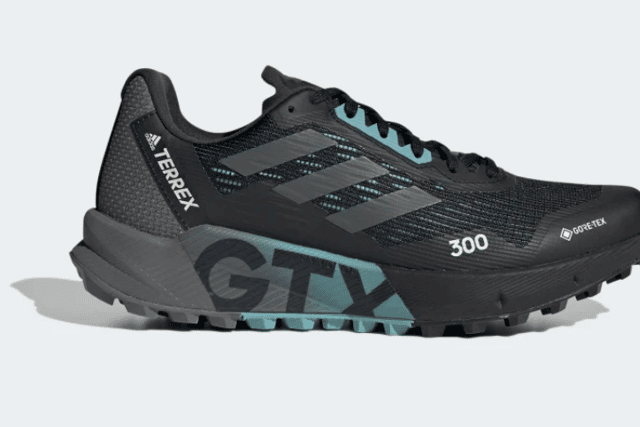 'Wet trails, dry feet' is how Adidas sum up the Terrex Agravic, and on test we were really impressed by how reliably waterproof the Gore-Tex membrane built into this shoe is. This might not be the most flexible or lightweight trail shoe we tested, but it feels solid and supportive and keeps your toes protected and your feet bone-dry – and all at a very good price point.
If you head out the door to run in any weather, this is the shoe to choose.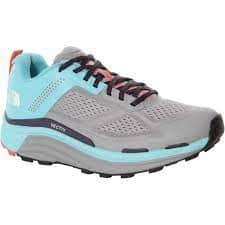 If you like a lot of bang for your buck when shopping for running kit, or if you already own a good summer trail shoe and need a winter counterpart, our pick of the affordable pack is The North Face's Vectiv Enduris.
This chunky design does take a few runs to break in and mold to your feet, but it's well worth it in the end – this trail shoe is grippy, comfortable and feels very durable, with a lovely cushioned insole and decent grip on everything but the slickest of wet surfaces.