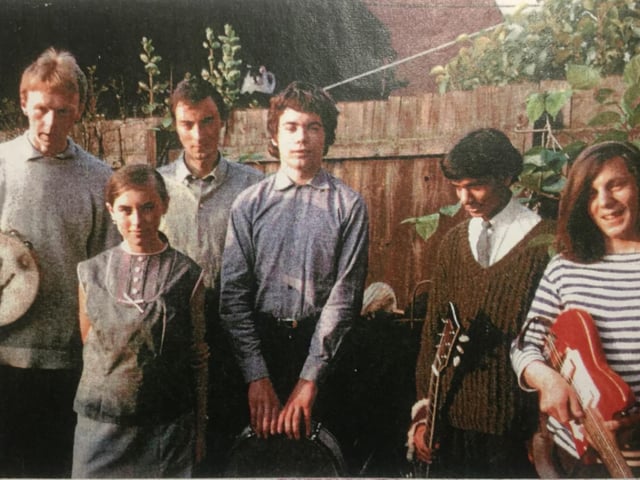 The Reprobates (from left) Allan Hockin, Peter Barker, Brian Meredith, Ralph de la Croix and Paul Barker . The young girl is the Barkers sister.
Patrick Garrett has been in touch to say John Phillpott's feature in our January 2 edition was a real blast from the past, as he was a founder member and Roadie of The Reprobates before they adopted that name.
He recalls: "They were a school band called The Casuals with the line-up of brothers Peter (rhythm, lead and harmonica and Paul Barker as rhythm and vocals, Ralph-la-Croix as lead, Alan Hockin Bass and vocals, and of course Brian Meredith on drums)
"My unsung job apart from finding the remotest far flung places in England (No GPS then) and even stranger places in London, was to set up the amplifiers - plus knowing just the right place to kick them when they played up and make sure nobody died from electric shock (as quite a few in other bands did back in the day) with very dodgy wiring in many of the gigs we played at, some even with reverse polarity which turns mikes and guitars live.
Patrick Garrett with his battered old Ford Thames 15cwt van
"The band later became The Reprobates and toured with The Merrymakers and absolutely smashed 'You really got me' the Kinks hit to such an extent many in Rugby thought it was ours.
"We played with many big name bands of the time and locally Rugby Theatre, Granada, Town Hall and most of Rugby's legendary pubs and clubs many now sadly gone.
"The band was then the Big Idea. "Brian Meredith then played keyboard and Mick Bradley joined us on drums and Phil Clough as lead. Phil later played with Pinkerton Assorted Colours.
"Mick, the most awe inspiring percussionist I have ever seen, then left and joined Steamhammer.
Patrick Garrett with his battered old Ford Thames 15cwt van, which he remembers had a Ford Consul bench seat wedged (not bolted!) in the back
"Barry Morby joined us on drums and later, after my battered old Ford Thames 15cwt van with nearly bald tyres became too small, my days with the band were over.
"Frank Bosniac took over as Roadie and the Big Idea later became War Horse."