Boost for Cleary's as second boxer attends Great Britain assessment
Club hopes to re-start classes for adults and children in June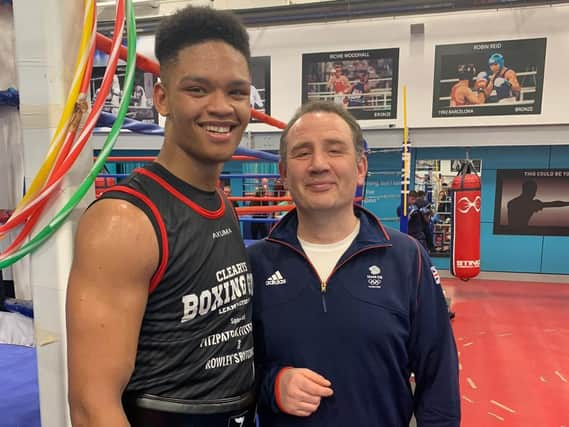 Matthew Harris has become the second boxer from Cleary's Gym in Leamington to be selected to attend a Great Britain assessment last weekend.
"He was spotted after sparring rumours as he travelled up and down the country as an elite athlete to help some of the best UK heavyweights prepare for there title fights, Fury, Dubois, and Joyce to name a few," explained coach Edwin Cleary.
Matthew, 21, who has only had a handful of fights stands at 6'8ft and a 120kg (19 stone).
"He could be the quickest athlete to attend GB boxing and will train alongside Cleary's other heavyweight Lewis Williams," said Edwin.
"It's a very big boost for the gym after lockdown and already you can see the squad improving."
He explained that in common with other sports they worried their participants may have foundsomething else to do.
"But we've been very lucky with the boxers all returning. They've kept a good weight and fitness up," he said.
"Like everyone it's been hard with the lockdown. But the news that Matthew has been assessed is just what everyone at the club needed."
They had set up a boxers' WhatsApp group with the boxers and coaches using it as a chat room, posting videos of them training at home, to inspire others.
The coaches then used it to help improve the boxer for their next post.
Edwin said they are also hopeful of restarting their classes for children and adults in June.
Anyone interested should email [email protected] or visit their website www.clearysboxinggym.co.uk for details.