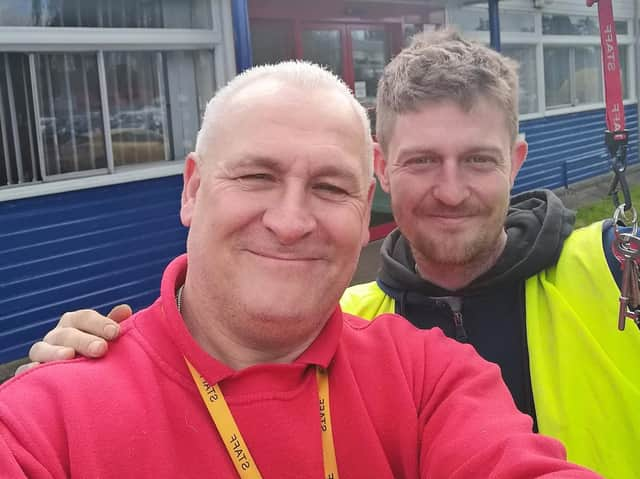 A new amateur boxing gym for Warwick will open its doors on Sunday.
Warwick Boxing Gym is the brainchild of coach Adrian Bush, who has teamed up with Sam Newey of Newrock Builders, for the venture at Emscote School in Nelson Lane.
From 10am to 2pm anyone interested is welcome to visit the club, which will be introducing boxers from as young as eight to the sport.
"You can't box until you're 11, but starting early is a good advantage," said Bush, who raised funds to have a statue of the town's famous sporting hero Randolph Turpin unveiled in Warwick's Market Place in 2001 by Henry Cooper and other well known fighters, with a representative from Buckingham Palace reading out a letter from the Queen.
"We will go up to senior level, age 30 plus. We're also going to do a class for people who just want to do the boxing training but don't want to box and a ladies only class.
"The gym, the only one in Warwick, is on the same street where the great Randolph Turpin trained with his brothers and many other professional boxers in their time.
"Three local building companies who want boxing back in the area have donated cash to set it up, the others being The Bathroom Company, Warwick and Warwick Electrical, so thanks to them. Having no boxing club in Warwick is just not right."
Bush started boxing at the age of 13 at the Warwick West End Boxing Club under Tom Dable, Alan Marshall and Mosh Mancini.
He explained: "I then went onto Leamington Boys Club under the Quigley Brothers Willy Stack and Ron Stefani.
"When that closed I boxed at Stratford-upon-Avon having 41 bouts winning 28 and won the Warwickshire championship at senior level and a Midlands finalists.
"For many years there wasn't a boxing club in the area at all but I helped set up the Sydenham Boxing Club in Leamington with Willie Croke, and Martin Marum, which is still going under a new trainer."
Bush is a qualified ABA coach under England Boxing and says Newey will be going on a boxing course to gain his coaching qualification, along with other members of the committee.
Randolph Turpin was world middleweight champion in 1951, beating the great Sugar Ray Robinson, while his brother Dick was the first black British boxing champion in 1948.
Bush also raised funds for a painting of Dick by local artist Paul Oz to be unveiled at the Court House in Warwick.
For more information call Adrian on 07581 506820 or Sam on 07904 536610.