Kacie Elson has just been named manager's player of the year for Newcastle United Women after they topped the table in the FA Women's National League Division One North.
She capped a memorable season by scoring the first goal in their 2-0 win away at Barnsley, which confirmed promotion on goal difference.
That final round of matches was on Sunday, May 7 and the following Saturday was the awards night.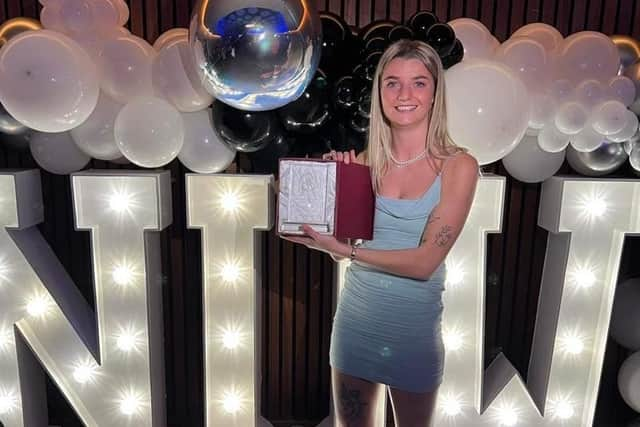 Manager Becky Langley said: "Kacie has worked relentlessly with me for four years. She's a great character and a loyal and determined player.
"She was in the league's top four goalscorers this season and assisted many goals.
"Her improvement across the last four seasons has been massive, earning her a key role in the squad.
"Her speed has tortured full-backs in the league and memorable goals included Leeds United away and Wolves at home."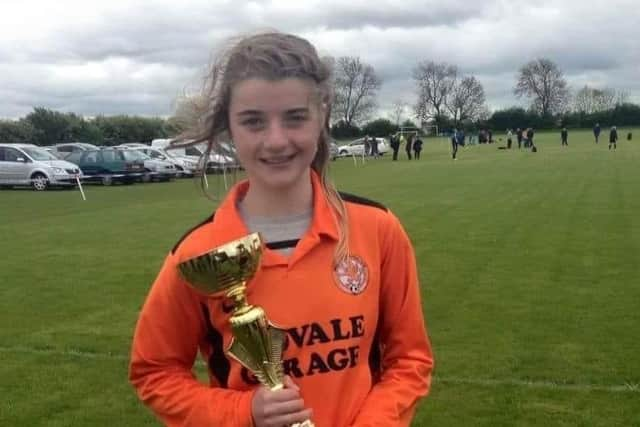 Kacie told the Advertiser: "It's a dream come true playing for Newcastle and winning the league.
"It's the best team I have ever been a part of."
Her success has been followed every step of the way for her family and all who were there as her career flourished in Rugby.
And mum Clair Elson says her daughter grew up surrounded by football fans: "Kacie was first introduced to football by her grandfather Paul and her uncle Peter and on Christmas Day we regularly have a kickaround as a family – it's great.
"My father bought Kacie her first kit. It was a Birmingham City kit – well my dad thought he had bought her a kit, in fact it was pyjamas that Kacie insisted on wearing everywhere.
"She attended Boughton Leigh junior school where she played with the boys' team.
"They were very supportive and encouraged her with her sports."
The following years saw her play club football locally and at Avon Valley school, where she also enjoyed other sports.
Clair added: "At the age of 13 Kacie said she wanted to play football professionally so myself and her Aunty Frances started attending trials."
Her first step towards achieving her dream was getting into the Aston Villa development team, a journey which ultimately led to her signing for Newcastle.
She didn't let her education slip and went to study sports science at Newcastle University and has moved on to do a masters in international sports management.
Of many highlights along the way, Clair said: "Her first match at St James' Park in 2022 was amazing, there were over 25,000 fans there.
"I remember thinking this is just the start, she's done it, it's an incredible feeling of happiness as a parent.
"She inspires me, she has done since I first held the tiny 5.3lbs bundle of strength. I'm so excited for next season to see what she brings."
Newcastle move up to the third tier of women's football – the Northern Premier Division – meaning matches against a number of bigger names, including Midlands teams.
Kacie added: "I'm excited about going back for pre-season.
"I'm ready for a great season with new challenges – and playing some matches closer to home where my family can watch."