Kettering Town 0 Leamington 3 - Jon Dunham's review
The FA Trophy clash between the two Vanarama National League North rivals had just about everything.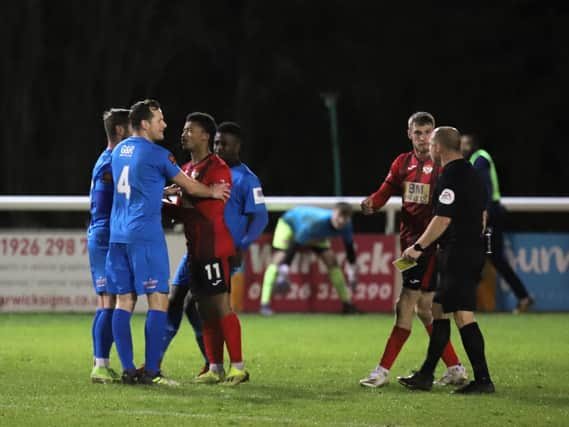 Jon Dunham gives his views on the strangest of evenings at the Community Stadium…
Where to start? Let's talk about things on the field first, shall we?
It's hard to believe but, at some points between 7.45pm and 11.22pm on Tuesday night, a football match did break out.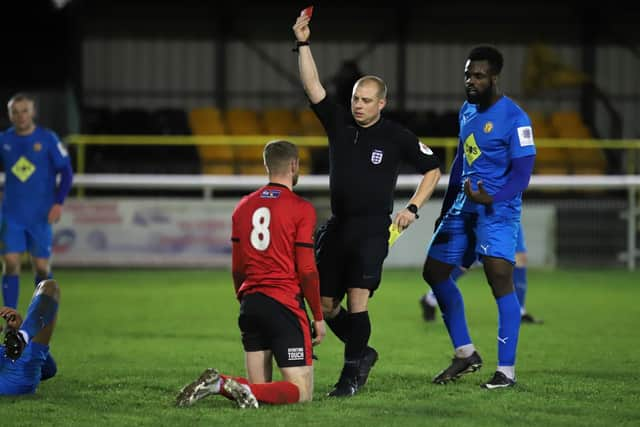 And, once the dust settled, there was no doubt that the final scoreline and outcome was right.
Leamington started the game like a team bang in form. Kettering, on the other hand, started poorly in their first match action for a fortnight.
Once Danny Waldron had slid in to put the Brakes in front inside the first minute, the final outcome never really looked in doubt and that was only enhanced when Michael McGrath's moment of madness saw the Poppies reduced to 10 men (more on that below).
Leamington were ruthless after that and they took full advantage of some questionable defending with Jack Edwards' (has that guy ever had a bad game?) thumping header doubling the advantage before the third goal arrived with Jack Lane looking like he got the final touch to Dan Meredith's menacing corner to the back post.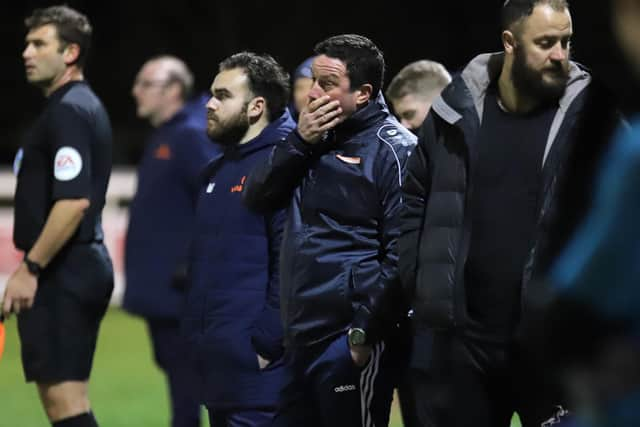 Once the game restarted at just after 10.30pm (yes, that time is right), it was merely a matter of process and while Kettering's indiscipline was again on show, they actually showed a bit more with Decarrey Sheriff, in particular, catching the eye while being unlucky to see a fine effort cannon off the post.
However, over the 90 minutes of actual football, Leamington were worthy winners. There really can't be any arguments about that.
On to the floodlight failure and what followed, it has to go down as a farce, doesn't it?
I guess you should always expect the unexpected and there was disbelief all-round when the floodlights suddenly went out, shortly after the players had returned to the dressing-rooms at the break.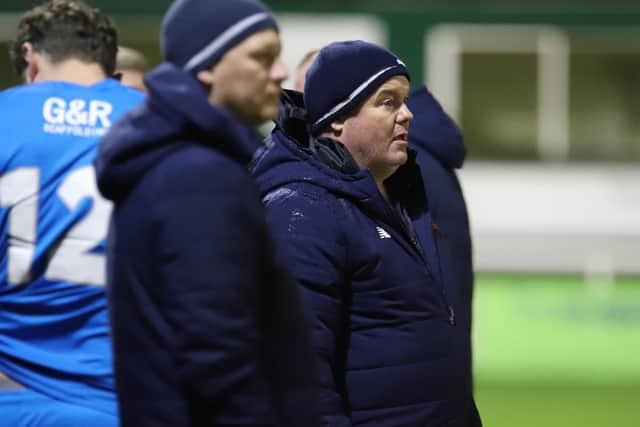 As you'd expect, Leamington did what they had to do by calling out Western Power but, as time went on, it seemed likely that an abandonment would be on the cards.
Indeed, listening to both managers, it seemed both sides were resigned to the fact that the game would not finish.
But still we waited and waited and waited. Apparently, the Football Association were on the phone insisting that the game should be completed if at all possible.
However, the bigger picture clearly wasn't looked at.
We are in the middle of a global pandemic and, for nearly two hours, players and staff were stuck inside dressing-rooms and corridors where, through no fault of anyone, social distancing would have been at a premium.
No matter what anyone says, even in normal circumstances the second half of a midweek football match should not be starting at 10.30pm, especially when the vast majority of players have work to think about the next day.
Quite why the game couldn't have been halted and everyone just return the next day to complete it from where it was stopped, I will never know.
In the end, of course, the power was restored and the match was finally completed at 11.22pm.
I find it hard to believe that the FA intervened in such a way. I agree with Paul Cox when he said it needed "someone to take control".
In normal circumstances, it would have been fascinating to see how the situation would have been dealt with if fans from both clubs had been in the ground.
Either way, I fear there may be more to play out on the situation that arose once the lights went out.
Kettering's indiscipline was costly, that must be nipped in the bud.
Kettering are an aggressive and physical team, that's how they play and there is absolutely nothing wrong with that. As long as it is controlled.
And the truth is, they lost control on this occasion.
Michael McGrath is the captain of the team and there can be absolutely no justification for the way he talked himself into a red card while the Poppies were only 1-0 down.
His confrontation with referee Adrian Quelch was ugly, to say the least, although it did lack the physicality that was reported in some quarters.
The fact is, McGrath received a deserved booking for dissent but then didn't let it go and, when the red card was brandished, it was hard for anyone to argue.
He lost control and that is a huge disappointment as it came at a time when Kettering were still in the game and all was most definitely not lost.
McGrath is a good player, there's no question about that, but regardless of any provocation, the scenes were unnecessary and uncalled for.
The Poppies were, perhaps understandably frustrated later on in the evening and that seemed to spill over in the second half as the tackles flew in, resulting in both Connor Johnson and Connor Kennedy seeing red for two bookable offences.
This was a rough night for Kettering but sometimes you have to help yourselves.
Leamington looked every inch a team bang in form, what a job Paul Holleran has done there.
I've been doing some work for the Leamington Courier for a while now, such is the way of the world these days (that's a different story).
But I'd heard good things about the way the Brakes have been playing recently and it was on full show in this game, particularly in the first half.
They got the very early goal and once Kettering had gone down to 10 men, Paul Holleran's team were ruthless in the way they all-but finished the job before half-team even if they were helped by some questionable defending.
The bigger picture is that Holleran has developed an impressive, hard-working squad at the Community Stadium and they are delivering results both in the league and knockout action.
He is widely regarded as one of the best managers at the level, not least for his longevity.
Holleran is the perfect fit at Leamington and he's now put together a team that will be looking up, rather than down.