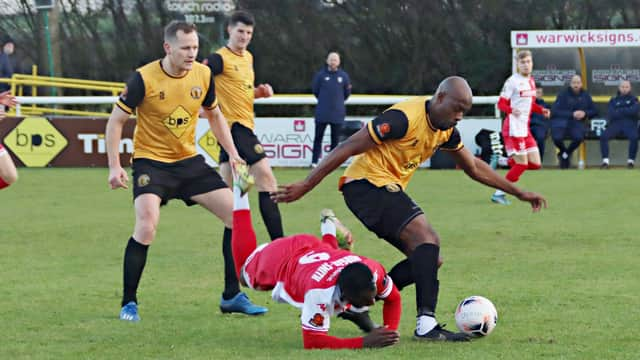 It was their fourth draw in a row and their 14th in 25 league games.
The visitors enjoyed the lion's share of the ball, but came up against a determined, organised and stubborn Brakes rearguard led by the outstanding Theo Streete, who was a rock in central defence whilst also coming close to scoring at the other end.
"We ended up playing against the conditions in both halves," said Holleran. "I couldn't believe it had swung round on us! We found it difficult to get out of our own half at times.
"I think both sets of players need to be applauded considering those conditions today. It was a real blood and thunder, entertaining game. Obviously the people that have been up here all morning trying to get the game on, too.
"We struggled to spin those balls in behind and attack that space, but they're a really good side - I thought they played well today, Kiddy.
"They certainly edged it from box to box. We were very good at set plays - good deliveries, clear contacts on two or three occasions.
"We're all here, we all want Leamington to do well. You can see how hard the players are working around the place and we all want to get back to winning ways, but we're having to work very hard to grind out results against really good sides, and that's what you've got to do in this league.
"It's not a league where we're going to dominate possession and create loads of chances against the likes of Kiddy and Brackley. It's a league where you've got to be hard working, structured, discipline needs to be good…. And it's another really good clean sheet.
"There might not have been all the goalmouth action we'd have liked today, but there was certainly lots to admire from both sets of players. We take the clean sheet, we take the point, and we move on."
The returning Louis Hall came close to scoring on 28 minutes with a first time strike.
Streete was denied by a fantastic last ditch stop from Tom Palmer after the break.
Streete headed wide from a Leamington corner, before Amari Morgan-Smith was denied a winner by a raised flag in the closing stages of the game.