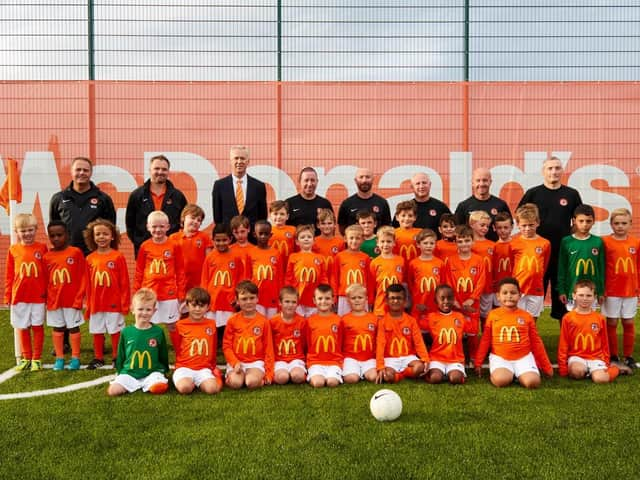 Glyn and the club during a previous kit presentation.
Rugby Borough Juniors FC will be able to continue to keep their membership fees low thanks to a £3,000 sponsorship deal with a businessman.
Rugby McDonald's franchisee Glyn Pashley and his local restaurant have partnered with Rugby Borough Juniors FC to help fund the new kit and festival trophies for the club.
Glyn and his restaurants have been supporting local grassroots football as part of Mcdonald's partnership with the FA.
His ongoing sponsorship will provide 18 teams, nine in each U6 and U7 age category, with £3,000 worth of kit and festival trophies.
Glyn, who owns 18 restaurants across the Midlands, said: "My restaurant team and I are delighted to be continuing to support grassroots football in the local area, especially at a time when support is needed more than ever.
"I'm excited to build a long-term relationship with the club and make a real difference to the quality of support available to the players and coaches."
General secretary of the club Brian Crinigan said: "Rugby Borough Juniors FC are hugely grateful to McDonald's for their sponsorship and supply of playing kit for our U6 and U7 teams.
"The support of McDonald's will allow us to continue to keep our membership fees low and give access to youth football regardless of background and ability.
"We look forward to working with McDonald's to continue to provide a safe and fun environment for children to play football."