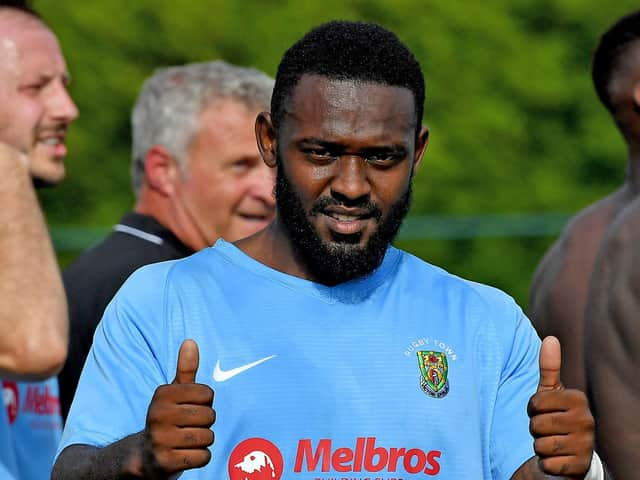 Danico Johnson after scoring a hat-trick in his first spell with Rugby Town PICTURE BY MARTIN PULLEY
Following the disappointment of the home defeat to Northampton Chenecks at the weekend, Rugby Town boss Carl Adams has moved to strengthen his attacking options by securing the return of striker Danico Johnson to the club.
Johnson made a significant impact at Butlin Road in the first half of last season in helping himself to 20 goals from just 26 appearances before leaving for Southern League Premier Redditch in January 2019.
The 24-year-old's non-league playing career has been characterised by continually moving from club to club, with his five month tenure at Town last season a relatively long spell for him.
Adams is hoping that Johnson will kick-start his team's campaign this time round, after seeing them slip a place to seventh following Saturday's 1-0 reverse against Chenecks.
He said: "It's very much a case of one step forward and a couple of steps back for us, and we know we need to be more consistent and build a longer run of victories if we are going to stay in contention.
"Danico did a great job for us last year and we know what an excellent performer he can be at this level. He's had a few clubs already this season, but hopefully he can settle here and get back amongst the goals again."
Johnson joins from Midland Football League Racing Club Warwick, having started the campaign on a dual registration basis at Southern League Alvechurch and another MFL club Romulus.
His first spell at Valley saw him grab a hat-trick at Peterborough on debut and he followed this up with three further trebles and two braces before his departure.
The striker will be looking for a similar impact on his reappearance in a Town shirt this Saturday, when UCL Premier bottom club Sleaford come to Butlin Road.
The Lincolnshire side have had a miserable term so far and are yet to record a point from any of their twelve league matches - with a goals against total of 55.
# Midfielder Lewis Hayden has ended his second spell at the club by returning to another one of his old teams Walsall Wood.