Stop-start season is taking its toll, says Leamington top boss Holleran
The Brakes suffered a number of injuries in their first game for over two weeks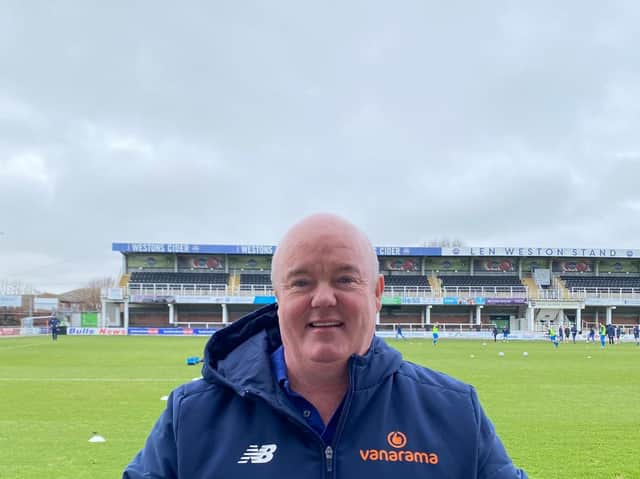 Leamington boss Paul Holleran was named the Vanarama National League North Manager of the Month for January. Picture courtesy of Leamington FC
Paul Holleran believes the dangers of a stop-start season came to pass for Leamington last weekend.
The Brakes returned to action for the first time in over two weeks and suffered a 1-0 defeat at National League North rivals Hereford in the last 16 of the Buildbase FA Trophy.
But there was even more damage done with a number of players suffering injuries and boss Holleran believes the four members of his squad who suffered "muscle injuries" is proof that the intermittent matches are taking their toll.
Brakes should have been back in league action at Kettering Town on Tuesday but that game was called off due to a frozen pitch.
This is all happening to the backdrop of the ongoing voting process to determine how the remainder of the National League, North and South divisions are played out with a clear choice between continuing playing or stopping and declaring the seasons null and void.
The vote has come about due to the row over clubs having to take out loans instead of receiving grants which many say they were led to believe would be forthcoming while fans are not allowed into grounds during the Covid-19 pandemic.
Holleran was named the National League North manager of the month for January and while his team only played two league matches as well as an FA Trophy clash with Kettering, he believes the award is a reflection of the impressive season Leamington are enjoying.
But he now believes a decision on what happens next is needed as soon as possible.
"I think it probably reflects more on the season in terms of how well the club has done," Holleran said of his manager of the month award.
"The boys have been fantastic, it's probably the best period we have ever had at this level.
"We were unfortunate on Saturday, we had a couple cup-tied and we took a gamble on Joe Clarke which didn't work but we had to because we were down to the bare bones.
"Joe had to come off, Steph Morley had a head injury and had to come off, Kaiman Anderson pulled his calf and then his replacement Connor Taylor pulled his hamstring and then Danny Waldron had a head injury which kept him off for 10 minutes.
"It was one of those days where everything that could go wrong did go wrong.
"But if I look at the pace of the game and the intensity from both sides compared to the game we had over Christmas and then look at the four muscle injuries we picked up, there has to be something in this stopping and starting.
"On the whole, to win three or four games in that competition is always difficult but we have bedded in some good players and we have got ourselves into a comfortable position in the league so that's a good place to be.
"But I think this is getting to the players now. There was great desire early on to rally through and everyone got used to playing behind closed doors.
"But I think it's getting to the stage now where people feel it's getting ridiculous.
"A decision has got to be made quickly now.
"There are different scenarios in play but there has to be an understanding for teams who have worked really hard to sort their clubs out and get back to where they are now who can't go out and borrow money.
"We all want to play football but it's up to the league to put a structure in place where clubs aren't stretched.
"Last season ended up a disaster, this season is slowly going that way as well.
"There are teams in our league who still have 31 games to play. This resolution could take until the start of March to put in place and you could be playing football right into June if we're not careful.
"That's then going to have a knock-on effect on next season and you could, in theory, end up with three seasons being in a mess.
"I guess there is a chance that by the time we are due to start, things could be somewhere close to being normal again. That's what we are all hoping for.
"Everyone wants to play football, but not at any cost and everyone fully respects the decisions of clubs who have come back from the brink and worked hard. A lot of that is done by supporters for their communities."
Brakes are scheduled to host Chester on Saturday and should the game go ahead they will have Taylor Allen available after his loan from Forest Green Rovers was extended to a third month.