Four days on from their unexpected 1-0 home defeat at the hands of Desborough Town, which had brought an end to their all-time club record-matching run of 13 straight league victories, Valley comfortably eased past the line at the Station Road ground to maintain their 14-point lead at the top of the table.
After this latest three-pointer, Town boss Carl Adams reflected on the preceding week.
He said: "It was great to bounce straight back on it after the midweek disappointment.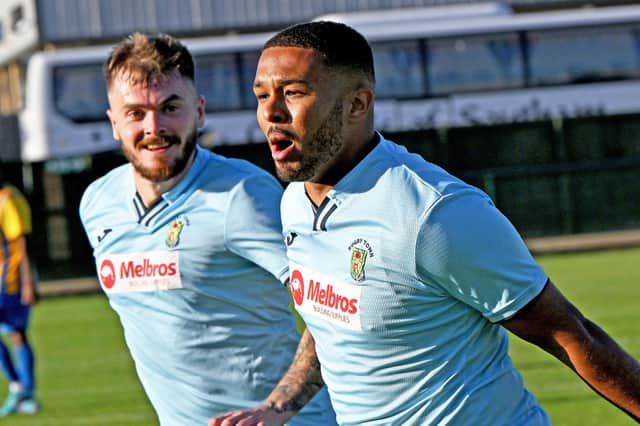 "We created plenty of chances and had the vast majority of possession against Desborough, but for once things just didn't fall for us - which I guess was bound to happen sooner or later.
"I asked the players for an immediate response on Saturday and, to their credit, they gave it to me and we could have easily scored more."
Rugby striker Jordan Wilson had given his side another great start to a game by finishing off an Edwin Ahenkorah cross after just two minutes.
Liam Francis then headed home a Luke English long throw to double Town's advantage, before Wilson fired home again just before the interval.
Wilson completed his second hat-trick for the club when he followed up on Buckby keeper John Meadows' parry from skipper Loyiso Recci's effort, with the visitors missing out on a fifth when yet another penalty kick went begging after Ahenkorah saw his strike from the spot well saved by Meadows in the final minute of normal time.
Ahenkorah's miss meant that Rugby have now squandered six penalties in their last 12 outings, with Ryan Seal (twice), Madundo Semahimbo, Wilson and Recci also begrudgingly members of the 12-yard failure crew.
Adams continued: "Fortunately none of the misses have cost us points so far and overall our goal difference is great, but we know that it's an area where we have to improve for the rest of the season and beyond."
Next up for Town is the visit to Butlin Road of eighth-placed March Town United this Saturday.
The Cambridgeshire club were one of the early pacesetters in the division having been transferred into the UCL structure at the start of the current term.
However, their form of late has been poor and they have gathered just four league points from the last 21 available to them.