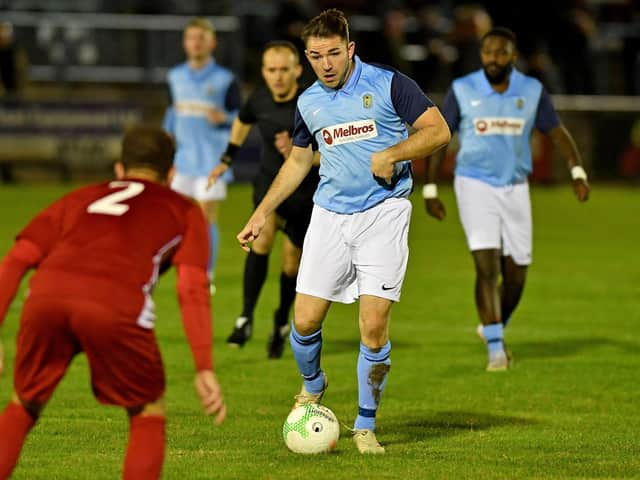 Fans' favourite Ryan Seal is leaving Rugby Town this summer. Picture by Martin Pulley
Rugby Town's preparations for the forthcoming 2021-22 season are already well under way, with manager Carl Adams looking to finally plot a route back to Step 4 of the non-League pyramid.
Town are set to kick-off their United Counties League Premier Division South on Tuesday, August 3, they will do so with two months of pre-season activity behind them, after the players made an early return at the beginning of June.
Adams explained: "We've got the players back in earlier than we normally do to try to get their legs moving again.
"It's been a while since we were last together and playing competitively, so we will gradually build up fitness levels once a week for now and then ramp things up in multiple sessions from July."
Valley's last outing came six months ago in the 1-0 Boxing Day victory at Northampton ON Chenecks, before the UCL Premier campaign was ultimately brought to a halt with less than a third of its total fixtures completed.
Rugby's boss continued: "We've also already pencilled in seven warm-up games in July, including a couple against higher level opposition at Butlin Road, so hopefully we will be sharp and raring to go once things get going for real."
The planned schedule of pre-season friendlies starts on Monday, July 12 at Rugby Borough, with another away outing three days later at MFL Division One St Andrews.
Town then host the two level higher outfit Stourbridge on Saturday, July 17, before a trip to Racing Club Warwick three days later (July 20).
There is another step-challenge on Saturday, July 24 when Bedworth make the short journey to Butlin Road, with two further home games against FC Stratford and Gresley pencilled in before the month is out.
If Adams is to achieve his promotion aim, it looks like he will have to do it without a number of the players that have regularly featured for him over the last two seasons.
Fans' favourite Ryan Seal has confirmed via social media that he will be leaving the club for pastures new, whilst Bedworth have announced that keeper Sam Lomax and defender Jamal Clarke are set to be part of their squad for the new campaign.
Town Academy graduate Caine Elliott is another likely departure, with Southern League Premier Stratford Town his rumoured destination.
Gresley-bound Seal made an instant impact after signing for Rugby at the start of the 2019-20 term, topping the club's scoring chart from his advanced midfield position with 16 goals in 25 league games in another curtailed season.
Speaking on the Valley supporters' Facebook page, Seal said: "I've decided to play my football elsewhere next season. I just wanted to thank you all from the bottom of my heart for how welcome you made me feel and the support you gave me and the lads over the last couple of years."
However, Adams remains positive that he will have a squad capable of mounting a challenge in the months ahead.
He added: "We're probably losing a few from last season, which is disappointing, but these things happen in football and we wish them well with their new endeavours.
"The bulk of last year's squad are back training with us though, including David Kolodynski who we were only able to get one game out of before things were curtailed.
"Rest assured we will be busy trying to attract new players to the club over the coming weeks and then taking a good look at them in training and the friendlies."