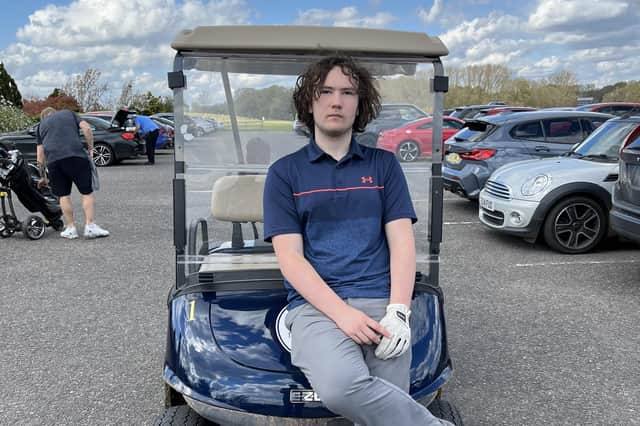 Golfer George Cornall
This included taking eight shots on the 17th, having hit his first two tee shots out of bounds!
It may not sound particularly outstanding, but this was the first time George, who is diagnosed with ASD (autism spectrum disorder) had ever completed a medal round on a full length course.
His previous competitive outing also ended in victory - the Junior Easter Cup on the Kings course at the Warwickshire GC, where he is also a junior member. His stableford score of 45 points, finished with three gross pars.
He was also successful in some of Kenilworth's bi-monthly winter stableford tournaments.
George first had golf lessons about the age of seven, but it wasn't until August last year that he managed to play 18 holes on a full length course.
When he was 11 his promise on the golf range earned him selection for the Warwickshire Junior County Futures programme and was also recommended to enter national and club tournaments, but his condition meant he could not cope.
"George like a number of other children in Warwickshire received a late diagnosis of autism, so for much of his youth his difficulties in taking part in sport (and mainstream school as a whole) were not understood," said his father John.
"Golf is sometimes said to suit children with autism as it's a solo endeavour but it can also in ways be very difficult for those on the 'spectrum', there is a lot of mental organisation required – different clubs, types of shots, changing conditions – and bad shots are part of golf, even at the highest level.
"It took George a long time to deal with the issues and the heightened emotions that on-course golf produced and several times he felt he would never conquer it and came close to quitting.
"His technical ability was always evident though and since making his breakthrough in 2021 he has made rapid progress, his handicap coming down from 36 to 22 in a matter of weeks.
"His aim is to get to single figures by the end of the year and he also hopes to study for a sport qualification and teach golf in the future, now the sky's the limit."