The Old Leamingtonians RFC, based at "The Crofts" in Bericote Road, are hosting their town rivals Leamington RFC in the RFU Midlands Counties 1 West (South) league.
The two Leamington clubs are both almost one hundred years old, Leamington being founded in 1926 and Old Leamingtonians (originally the Old Boys of Leamington College and now an open club) in 1931.
The Old Leamingtonians first match was indeed against Leamington and the OL's won.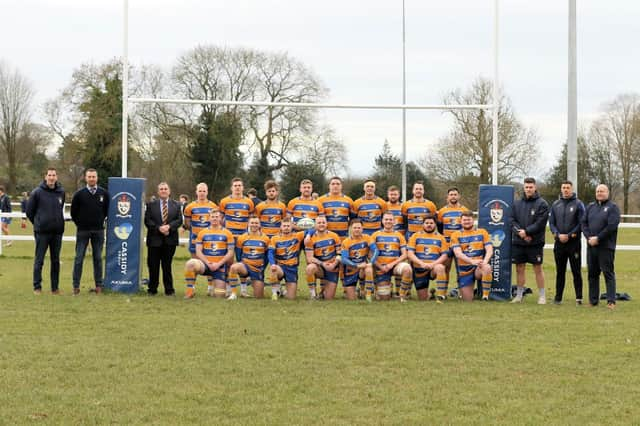 It has been many years since the two Leamington clubs have been matched in the same RFU league as they are this season and significantly the OL's are 2nd in the league having won their last 13 matches while Leamington are in 5th place.
Old Leamingtonians are coached by Ben Harris (Ex-Wasps front row) and Head Coach Adam Canning who said "we're going into the game on a run of 13 consecutive wins but we're expecting this to be our toughest test to date. Leamington are a strong side with a superb defence and some excellent individual players and we're clear that they will be desperate to kill our momentum and bring us back down to earth. It's another big challenge and a great opportunity to find out about ourselves and how far we've actually come."
The day will start with an open buffet from 1.00p.m. for all who want to attend and the game will commence at 2.15 p.m.
While both clubs are fiercely loyal to their own brand, over the years many friendships have been forged and while there will be no quarter asked or given on the field of play there will be camaraderie in the clubhouse in the true spirit of Rugby Football after the match.
Old Leamingtonians Club Chairman, Steve Campton, said: "My vision of the future of the OL's is to be a focus for all sport minded people of the area with opportunities for men's and women's rugby, walking rugby for the older members, mini and junior boys and girls rugby, Colts and mixed ability rugby as well as being a social hub available to all."
He added that he would love to see a big crowd at the game on Saturday with everyone enjoying the true essence of Rugby Football