Despite having to weather an initial, twenty minute, onslaught from the opposition, the "Moorefields Men" went on to serve up a superb all round performance.
The first time that Leamington got into the Berkswell half, around the 20 minute mark, they came away with points. Having won a penalty, they kicked for touch and with Ed Gray, once again in commanding form, the ball was secured and moved in field. Dunne was in support and his run won a further penalty, in front of the posts, which was too good an opportunity for Full Back, Josh Jones, to pass up.
From the restart, Leamington Second Row, John Brear, gathered the ball in his 22 metre zone, shook off a couple of opposition attackers and set Centre, Rich McKowen, away. The break, supported by Toby Bruce and Gareth Shuttleworth, soon had the home side in the Berkswell 22. The slick inter-passing between Bruce and Shuttleworth had completely out foxed the flailing defenders and when Dunne raced in to provide the coup de gras, Leamington were on fire. This superbly executed attack, leading to a breathtaking try, was expertly finished off by Jones's conversion from wide out.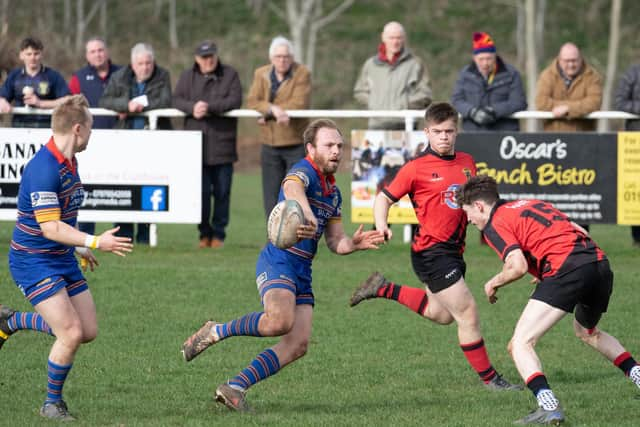 A Berkswell penalty followed before Leamington were on the score sheet again with another brilliantly engineered try; Dunne once again providing the important link, this time to winger, Garrett Bell, who's grace and pace made the space, for him to cruise through the deflated opposition defence. Jones, in top form, added the extras.
Before the half time whistle there was enough time for Berkswell to top up their score with a penalty, before Leamington cashed in with one of their own, earned following a decisive run from San Nunn, which Jones duly slotted over.
The league leaders began the second period with a purge on the home defence, however, when Gray secured lineout ball, deep in his own 22 zone, Shuttleworth was on hand to tidy up, then Garrett Bell sent in a huge clearance kick, after No8, Craig Smith had expertly gathered the ball at a back-peddling scrum.
Smith was continuing to work magic at the base of the scrum, allowing his backline the time and space to clear any danger.
Smith had been the prominent player in getting the ball moving and setting up some superlative openings and when McKowen and Ed Gray broke clear, the opposition were forced into an error, leading to a penalty, which Jones once again converted, to give his side an unassailable lead.
Berkswell did get on the score sheet again with two scores to liven up the last minutes of the match, although in fairness, Leamington had been in defiant mood all afternoon and were worthy winners against a side that a few minutes later would be crowned as league champions.