CYCLING: 90th anniversary celebrations for Rugby RCC
Rugby Racing Cycling Club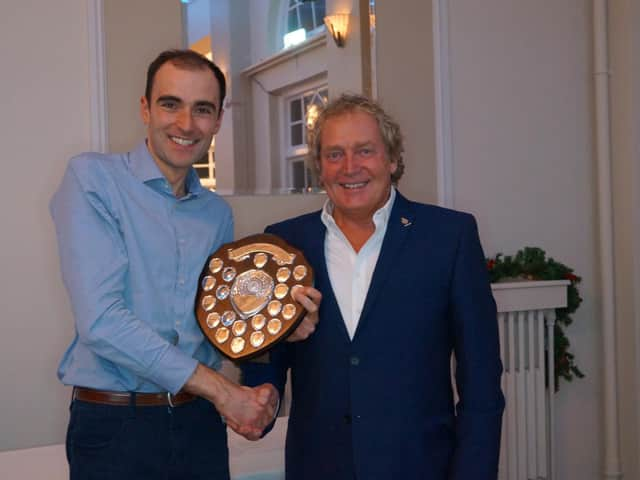 Club chairman Martin Orrill (right) presents Oliver Billing with a trophy
Rugby Racing Cycling Club celebrated their 90th anniversary at their annual awards evening on Friday at Arnold House. Club members enjoyed a night of entertainment including food, drink, music, a quiz and a raffle before the awards ceremony.
The traditional chairman's speech, made by Martin Orrill, recounted the success the club has enjoyed during its first 90 years.
In particular the achievements of Ralph Dougherty who joined the club in the early 1930s and earned the nickname 'The Rugby Flyer' by becoming the first rider in the country to complete 25 miles in under an hour. In 2012 Ralph had a permanent artwork dedicated to him a steel cut, life-size portrait on The Rugby Viaduct Cycleway.
Claire Walker receives one of her trophies from club chairman Martin Orrill
Oliver Billing and Claire Walker had the most to celebrate both taking home multiple awards including the prestigious prizes for the Wednesday evening time trial series.
It was also a night to remember for Brendan Hirst picking up the evening time trial series on handicap along with an age group win and best newcomer.
The interclub trophies were also presented with members of Rugby Velo on hand to pick up the Eddie Brodest trophy and Rugby RCC taking home the hill climb trophy.
The friendly rivalry continues with both clubs promising to win both the trophies next time.
In a sport that requires many hours of training and discipline it is important to take the time to celebrate success and by the end of a very enjoyable evening this had certainly been achieved.
List of awards - Oliver Billing: Men's, TT Series, Fastest 25 miles, best all-rounder, Presidents Cup, Claire Walker: Women's TT Series, Fastest 25 miles, Fastest 10 miles, Brendan Hirst: TT Series on handicap, Best newcomer, Age group 50-59, Andy Craig Age group 40-49, Brain Haycock 60-69, Mike Smallwood best veteran, Ben Leugs best junior, Richard Stirling most improved, James Gibb 50 miles on handicap. Interclub Rugby Velo, Interclub Hill Climb Rugby RCC.