Draycote Water Sailing Club appoint their first Youth & Junior Commodore
Millie Irish is their first female with the Commodore title after 19 men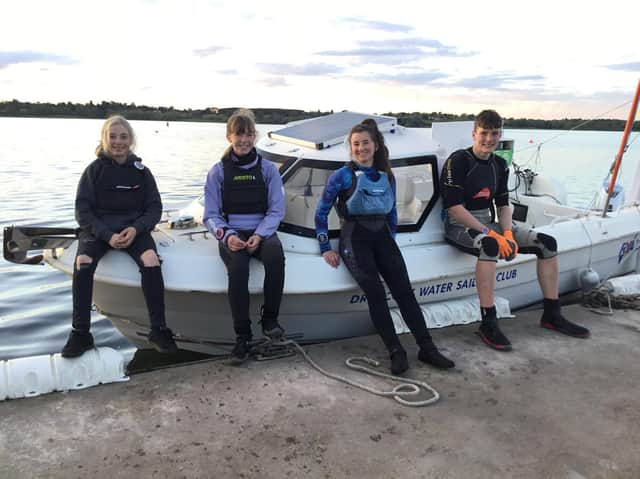 Millie with the Youth & Junior Committee
Draycote Water Sailing Club have introduced a new post of Youth & Junior Commodore for the first time in their 52-year history.
At the age of 16, Millie Irish not only becomes the first to take up the role, she is the first ever female at the club with the title of Commodore.
While Draycote has had 19 Club Commodores in its first 50 years, they have all been male.
Millie Irish (Pictures by Paula Irish)
In recognition of the outstanding success of their Youth & Junior division, the club had decided to appoint a second Commodore to lead the younger section, alongside the Club Commodore.
Elections took place with a Zoom meeting for the candidates to present their candidacy to their fellow members.
Top of the poll came Millie, who is maintaining a long association with Draycote as her grandparents were founding members of the club.
Millie, who lives in Stretton-on-Dunsmore, has been sailing all her life and her best result was finishing sixth at the Feva World Championships in Italy in 2019 from 200 boats.
She has also been the Draycote Water Sailing Club Champion (all ages).
Millie said: "I am so pleased to have been elected as Draycote Water Sailing Club's first ever Youth & Junior Commodore and also to be the Club's first ever female Commodore!
"The Club and its amazing staff and volunteers have inspired and helped me with my sailing over many years and it's a real honour to have the chance to give something back.
"The club is already a fantastic place for youth and junior sailors and we're all really looking forward to making the most of this new opportunity for us to have our own Y&J committee!"
Three other Y&J committee members were elected at the same time as Millie, with Sam Byrd and Jessica Powell also from Rugby.
Clemmie Middle is the final member of the Committee and lives in south Warwickshire. They are all looking forward to contributing to the club.
Draycote holds junior learn-to-sail courses every school holiday and half term, improver fun sessions on Friday nights and Saturday mornings, racing on Friday evenings and the Draycote Academy which offers high level racing training.
The learn-to-sail courses are available to non-members and can be found by visiting: https://draycotewater.co.uk/courses-activities/sailing-courses/.
The other activities require membership which is available for juniors at £13 a month. Club boats are available to hire by members.
Draycote Water Sailing Club celebrated their golden jubilee in 2019 with a visit by Princess Anne.
The Princess Royal was welcomed by members in her capacity as president of sailing's national body the Royal Yachting Association (RYA).