Aspire is a England boxing program held for females with the potential to achieve the break through to the England programme.
It's held in Sheffield institute of sport, the home of GB Boxing with the girls getting to work with the GB coaches and showcase their talent .
Priya was previously selected in 2020 however the programme was cancelled due to COVID.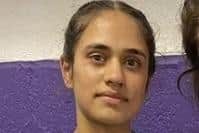 Priya's selection came off the back of impressive displays on the FIGHT LIKE A GIRL squad, which she has been a regular since 2018.
Priya is also boxing at Cambridge university next Saturday .
And club mates Mikey Macteege and Davey Boswell boxing in Coventry the week after.