Fiztpatricks' Lewis Howells serves up the fight of the night at Solihull's Planet Ice
Unbeaten super-middles Lewis Howells and Jackson Osagie served-up the fight of the night at Solihull's Planet Ice last night (Saturday).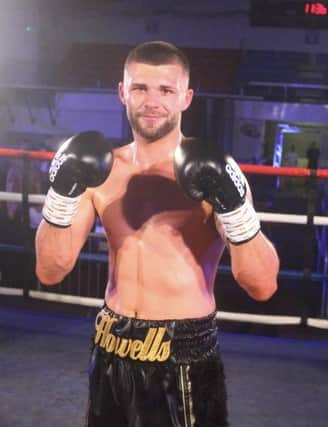 The clash between two hungry newcomers always seemed likely to steal Tommy Owens' 12 bout show. And the pair – both taking part in their third paid outing – did not disappoint.
In the end Howells, a former Welsh international now based in Stratford, edged the all-action four rounder 39-37 on Chris Dean's card.
There were those who saw Birmingham based Nigerian Osagie edging it, but I had Howells a clearer winner than the scoring official.
The 26-year-old did make the task more difficult than it needed to be by becoming drawn into a close-quarters battle. Osagie is raw, his shots unpredictable, but he's dangerous.
When Lewis kept the African behind his fine jab, he was in the driver's seat. When he stood and exchanged, it became a level playing field.
At times, Howells played with fire, but, thankfully, did not get burned.
He admitted it, the Welshman telling me as he left the ring: "That didn't go to plan at all. My timing was off and I got drawn in."
Osagie's cause was hampered in the opening minutes. After being stung by a left he wheeled away from what appeared a head clash, his right eye bloody and swollen.
Despite the worsening injury, Osagie (12st 1lb) continued to rush forward, swinging shots in an attempt to turn the tide.
Howells (12st 4lbs) showed good head movement, slotted home precise jabs, but struggled to find the target with right hands. Those that did connect had an effect.
The doctor inspected Osagie's eye at the start of the third, an ugly shelf of flesh above the optic hampering his vision, but allowed the battle to continue.
Jackson, realising time was against him, flung himself into the fray. That meant for fireworks down the stretch and it was Howells who had the last word, a right hand landing flush on the final bell.
This one would make a very tasty rematch.
Get the latest sport news from Leamington via www.warwickshireworld.com