g
Esther Lam, of Lillington Free Church Table Tennis Club travelled to Grantham last weekend to compete in the Cliffedale Chambers 4-star tournament.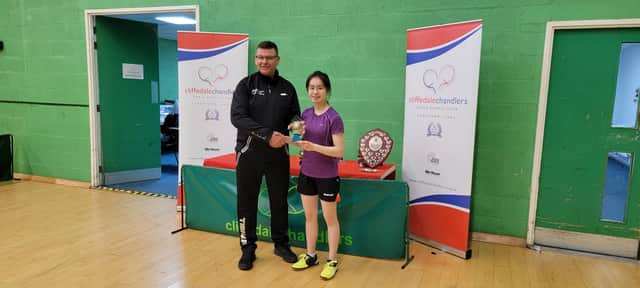 She entered the Junior Girls band 2 event and defeated Chui Que Wong of Surrey in the quarter-final. In the semi-final Alyssa Nguyen was dispatched 3-0 which gave Esther a place in the Final where she faced Alisha Dutta of Middlesex.
In a close match Esther took the title in 5. Three other Lillington players entered the tournament, Rex Wong reaching the semi-final of the Under 15 Boys singles, Chris Ho qualifying for the knock-out stages of both the Junior Boys singles and the Junior Boys band 1 event and Mia Chan qualified for the knock-outs in the Under 15 Girls Band 1.
In Division 1 second placed St Georges B had to concede 3 points to Free Church C because they were a player light. With Owain Jones enjoying an excellent win over Jason Tustain, bottom of the table Church pocketed 4 valuable points.
Mark Jackson won his three, Tustain bagged two and the pair won the doubles. WCC Bats pipped WCC A 6-4 despite Chris Brewer posting a hat-trick for A. Taran Dhillon added one but Bats bounced back with braces from Nilton Green and Simon Griew, who also showed what a strong doubles partnership they are. Martin Hunter notched the crucial 6th point.
Free Church B lie 4th and crushed Wellesbourne 9-1. Chris Ho and Rex Wong held maximums and won the doubles. Harry Purewal beat Steve Cull and Alan Hewitt but lost to Gary Stewart.
The top clash in division 2 saw leaders Rugby B edge WCC Bears 6-4. Tomas Jacko starred for Rugby with three wins, Niall Herbert added two and Henry Mileham contributed one. Bears stayed in the fight with a double from Martyn Todd, one from Chris Hughes and the doubles. St Georges C had an exciting 6-4 win over Eathorpe A.
Alex Boyd's two wins included a 14-12 in the 5th success over Elliot Hey. Richard Grover also won two for Georges and the pair took the doubles. Steve Proctor completed their tally. The villagers replied with Marius Morariu and Pete Titmas sharing their points.