However at the final whistle, it was the Moorefields outfit who were pressing for a second bonus point, to reward a gallant performance, which saw them beaten 41-27.
Leamington made a good start to this away fixture with Gareth Shuttleworth making a clever interception and kick through, that nearly bought success.
However, the visitors quickly fell foul to the fast and powerful running of the home side's attack and found themselves hit with four tries, interspersed with a Josh Jones penalty.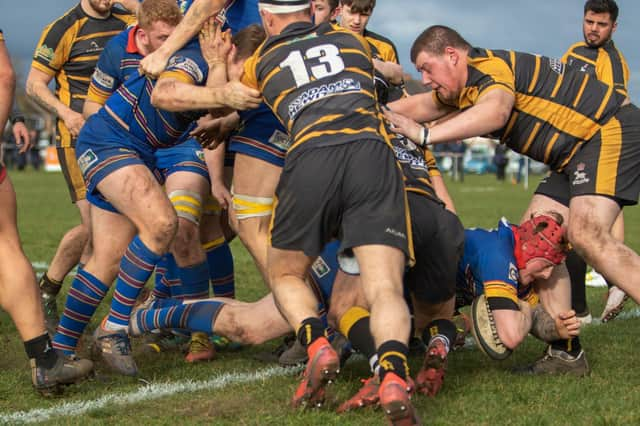 The home side increased their lead immediately after the break with another unconverted try.
Positivity remained throughout the Leamington squad, despite the deficit and this was soon rewarded with a well-worked score after Conor Chamberlain somehow wove his way through a tightly packed defence to score under the posts.
Despite the Leamington squad working very hard to increase this momentum, they once again succumbed to the powerful home attack, conceding two further tries.
Hope then returned for the visitors when Fly-Half, Chris John produced some individual magic, taking possession in the home 22 area and sending the deftest of chip's over the defenders and racing in to score. Jones once again added the conversion.
With plenty of work still left to do if they were to take anything from the game, Leamington pressed ahead and reduced the arrears with another well engineered score.
Earning a penalty, they drilled the ball to the far corner for a lineout. Securing possession, the Pack set up an unstoppable rolling maul allowing Nathan Batchelor to claim the try.
The race was now on, against both the clock and a stubborn opposition, to try to secure a bonus point.
The chance fell following more toil from the Leamington pack, who continued to press in the home danger area. Three quick penalties were conceded by the Kidderminster defence and the last one was snapped up by Shuttleworth for the vital fourth try.
But they just ran out of time in trying to attain a second bonus point.