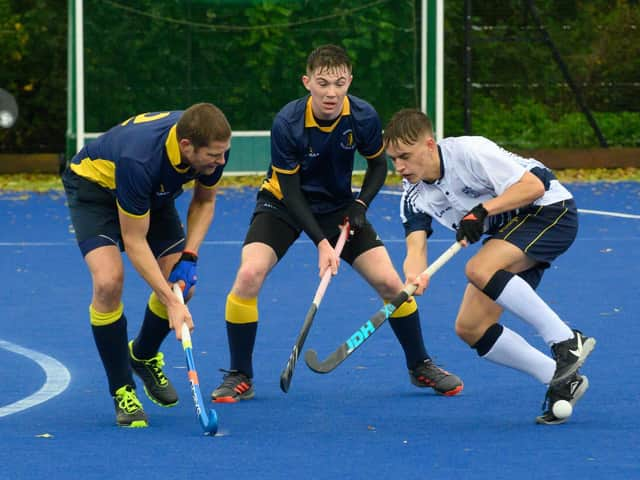 .
Rugby & East Warwickshire Men's 1st 7 Edgbaston 0
A Tom Robson hat-trick as well as two for Jacob Till and a goal apiece for Adam Hewitt and Tom Carter saw Rugby put in a convincing performance to go second in the league.
REWHC Men's 2nd 1 Telford 1st 4
Despite some strong saves from Man of the Match Connor Robson, a James Cummins goal was the only marker for Rugby as they faced yet another first team.
REWHC Men's 3rd 5 Burton 2nd 2
Goals to Man of the Match Ethan Mannion (2), Richard Cook, Liam Brown and Alex Salter saw Rugby pull ahead despite drawing at both 1-1 and 2-2. A dominant end to the game saw Rugby power through the stalemate for a much needed win.
REWHC Men's 4th 0 Tamworth 2nd 2
A strong start for Rugby could not see them through as Tamworth found a way to score despite good work and possession from Rugby.
REWHC Men's 5th 3 Berksell 3rd 2
A goal from a rebound for Rob Hedderwick as well as two short corner goals from Keith Slaughter and Giles Morrison saw Rugby keep ahead of Berkswell. Man of the Match went to Tom Scott-Brown.
REWHC Men's 6th 1 Warwick 4th 3
A first loss of the season for the 6th team saw them face a strong Warwick side away.
The lone goal for Rugby came from Ed Thomas whilst Man of the Match went to Aden for strong play at both right back and left midfield.
REWHC Ladies 1st 1 Loughborough Students 2nd 4
A good game against the students saw Rugby fall to a fast paced side.
REWHC Ladies 2nd 1 Coventry & NW 1
A lone goal from Lara Naylor saw Rugby pull out the draw against a strong side with a great second half performance.
REWHC Ladies 3rd 2 Atherstone 2nd 0
Two goals in the second half from Julia Bower and Nadine propelled Rugby past Atherstone in a high intensity game at Princethorpe.
REWHC O40s 4 Clifton Robinsons O40s 2
In a rematch of the 2016 final and in their first game in defence of their newly acquired title as national champions, Rugby played a strong defensive game throughout.
Goals from Alex Watkins, Rich Major and two to Luke Hurle saw Rugby maintain their lead despite a strong pushback from Clifton.
REWHC Girls U18s 23 Worcester U18s 0
A dominant performance for Rugby saw nine goals to Kirby Harris as well as goals to Emma Allroggen, Grace, Sian, Izzy, Lucy and Emma Allan.
REWHC Girls U14s 3 Worcester U14s 1
Goals to Tilly H and two for Jess N saw a great performance for Rugby, winning their first match in the competition with great team play.
REWHC Boys U18s 1 Hampton-in-Arden 1 (0-2 Penalties)
A goal to Tom Scott-Brown saw Rugby draw level with a strong Hampton U18s side but were ultimately unable to prevail in the shootout despite two saves from Connor Robson as Rugby found the post more times than the net.
REWHC Boys U16s 2 Stourport U16s 7
Two goals to Maddoc were not enough for the U16s as they faced a strong Stourport side, holding the score to 2-1 in the first half but unable to hang on.
REWHC Boys U14s 3 Bromsgrove U14s 2
Two goals to Will and another to James saw Rugby's Under 14s edge past Bromsgrove, holding off against the comeback attempt from Bromsgrove.