Home Guard beat Warwickshire County Council but are beaten by Three Spires
Home Guard's winning streak continued for the first half of the week with a visit to Warwickshire County Council in a 4 rink triples match that finished 67-61.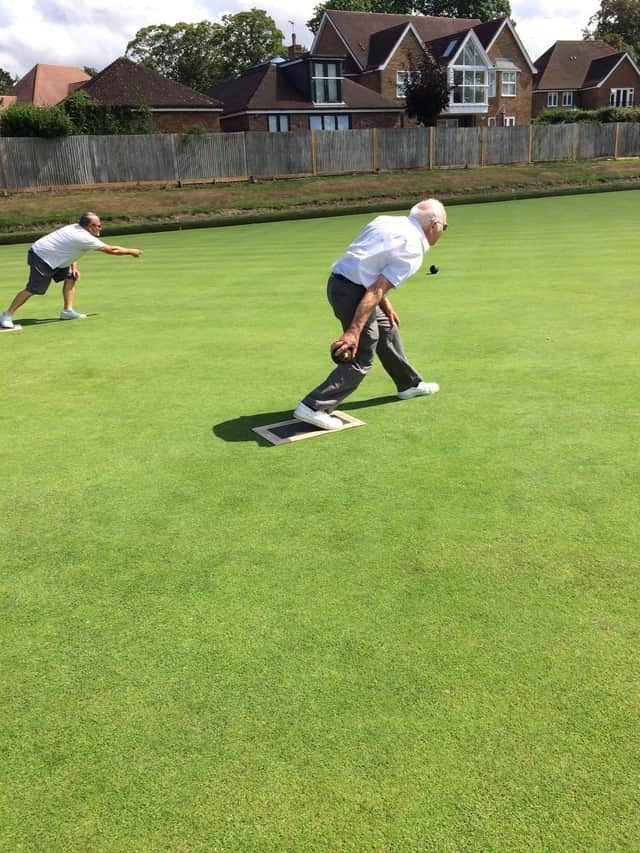 Fred Sawyer bowling for Home Guard.
The Guard had two winning rinks, the highest was Captain Fred Sawyer aided by Glen Stanford who were 10-5 up at half way and, with no second half rally by the County Council, they won 21-13.
Alan Rawlinson, Colin Chamberlain and Keith Lewis were 9-8 up at half distance, the Guard maintained their lead in the second half with a final score of 15-12.
Les Woodfield, supported by Pete Warren and Shaun Adams completed the first nine two shots up, but a second half rally by the Council resulted in a 15-15 draw. Mike Harrison, John McDermott and Pete Larkin, who were all square at nine ends succumbed, to a 21-16 defeat.
Home Guard's winning streak ended with a visit to Three Spires in Coventry in a 5 rink triples match that ended 63-88.
The Guard had one winning rink, Brian Smith aided by Keith Lewis and John McDermott who were 14-3 up at half way but with a second half rally by Three Spires the final score ran out 20-14 down.
Captain Fred Sawyer assisted by C Harris and Glen Stanford were unlucky in a very close match which they ended a single shot down.
Pete Larkin with Colin Chamberlain and Pete Warren were up by a single shot at 9 ends, but a strong rally by Three Spires resulted in a 20-12 defeat.
Alan Rawlinson went down 16-7 and Les Woodfield succumbed to a 23-10 loss.