Kenilworth fielded a somewhat changed side, particularly in the backs, with former Coventry player, Mark O'Connor making his 1st XV debut and exciting youngster, Ben Parsons selected in the league squad for the first time.
With a strong wind behind their backs, it was Kenilworth who opened the scoring with returning full-back Morgan kicking three points.
From the restart, Kenilworth put themselves under pressure with a mis-field of the high ball, but did enough to take play back into the Burton half, gaining a scrum. From the set-piece, Morgan kicked the ball in behind the home defence and earning Kenilworth their first attacking lineout, which led to a catch and drive try from hooker Carey on 14 minutes..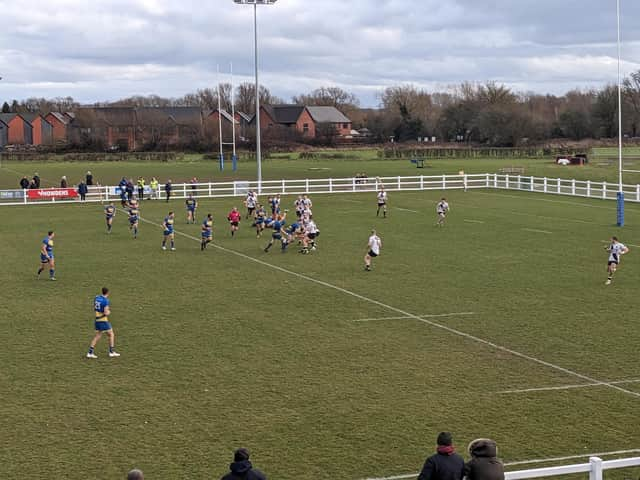 The next 10 mins of the game saw Burton with the majority of possession. Despite the Kenilworth defence successfully repelling several Burton attacks, the home side did eventually score their first try of the day with 35 minutes on the clock.
Kenilworth re-found their flow and added a second try with winger Sam Miles spinning through the tackle to dot down out wide and Morgan adding an impressive conversion for a 17-7 half-time lead.
With 10 minutes gone in the second half, Burton brought the score to 10-17 with a successful penalty kick.
Twenty minutes into the second half, Burton hooker was sent to the sin-bin after a high shot on Kenilworth's Chaz Hudson.
Already down to 14 men, Burton's indiscipline was further penalised with a straight red card, after a Burton player was deemed over-zealous in his rucking at the breakdown.
The Burton 13 defended well but eventually ran out of puff, when Kavanagh crashed over from close range; conversion added, score 10-24, ten minutes to go.
Despite the return to the game of the Burton hooker, it was Kenilworth who scored their bonus point, fourth and best try of the afternoon with a fine flowing move to go 29-10 up with seven minutes left.
Burton added another two tries in the closing stages to reduce the gap.