Bromsgrove went 3-0 after 12 minutes as the home side concede a string of penalties.
From the restart, Kenilworth continued to incur the wrath of the referee as tempers became frayed with the Bromsgrove 7 and Kenilworth 3 given yellow and ten minutes to cool off.
With 15 minutes on the clock, Kenilworth skipper Thompson scored the first try of the game, finishing off a good move.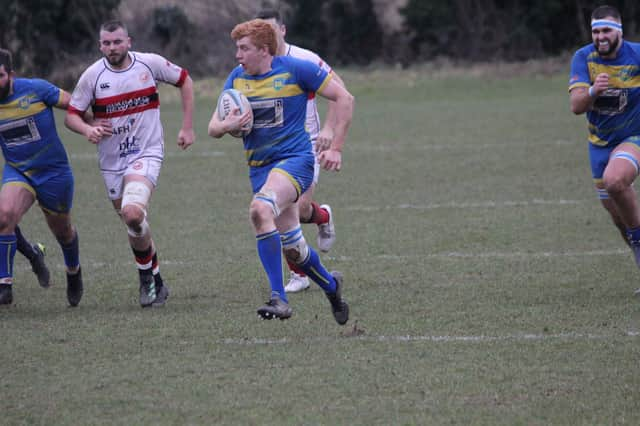 Fifteen minutes later Chaz Hudson added another try, before Bromsgrove reduced the gap with a penalty.
Straight from the restart, Kenilworth again with the bit between their teeth, converted another trade-mark kick to the corner, catch, drive and score, with Carey getting the last touch for a17-6 half-time lead.
Kenilworth were first to trouble the score board after the break through Opoku- Fordjour's converted try.
Talismanic Boulton was penalised and sent to the sin-bin for 10 mins. before the visitors cut the gap to 26-11 with an unconverted try.
With the game approaching the hour stage, with Boulton back in the trenches, Kenilworth fly-half Jowett rounded off some slick handling to score Kenilworth's fifth try on the wide left.
Young added another converted try to make it 38-11, before Calviezel-Cox added another quick converted try.
Bromsgrove now chasing the game and their only possibility of a league point being the 4 try bonus, attacked from deep with a cross field kick- pass to the right winger, who wrong footed Opoku Fordjour to score from 70m.
From the restart the Bromsgrove 6 was sin-binned for a high tackle on Rawlins, leading to a try by Andressen.
Before the final whistle Bromsgrove claimed their final converted try of the afternoon taking the score to 50-28.
Next up for Kenilworth is another of the top 5 teams when they travel to Burton upon Trent.
On Saturday, Kenilworth Men's 2XV also played away at Rugby St.Andrews 1st XV in the Counties 2 Midlands West South league but were defeated 38-29.