The home sides overall performance was faultless throughout the afternoon, with their pack providing the three-quarters with plenty of possession, which was used to full advantage.
Leamington opened the scoring in the first minutes of play with a well worked try through Harry Johnson. Try number two soon followed, set up by Jim Reed and Gareth Shuttleworth's clever interplay and finished off by prop Louis Dunbavin.
A penalty gave Leamington position in the visitors 22 area and when the ball was secured in the lineout, John Brear took firm control and bulldozed his way through for try number three.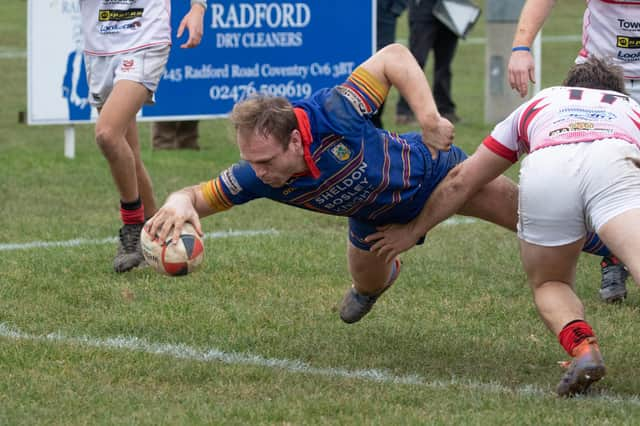 The pace of the game was energy sapping for the visitors and they had no answer when Toby Bruce and fellow Centre, Rich McKowen punched a big hole in their defence and set Johnson away.
The Full Back had Reed in support and timed his pass to perfection, allowing the winger to sprint through for the bonus point try.
The Leamington pack were working hard to both stem any form of attack from the opposition as well as creating opportunities for their backline to exploit.
Hooker, Nathan Batchelor stole possession and gained a penalty in the process. Ed Gray secured the ball at the lineout and allowed an attack to develop across field, culminating in a scrum.
The powerful Leamington forwards again took control, forcing their way to the try line and Shuttleworth was first on hand to get the all important touch down.
With the half time whistle beckoning, Leamington had one more score to excite the home support. Winger, Garrett Bell, had been a constant threat to the Bromsgrove defence, through his direct and powerful running and he set up the play, with a run across the pitch, linking up with Dunbavin who in turn unleashed Reed to finish off the fast moving attack.
Damaged beyond repair, the visitors did get a try in the early stages of the second half, although normal service soon returned for Leamington.
Ed Gray, masterful around the pitch and unplayable in the lineout, once again secured possession at the throw-in, for Reed to use his pace and power to drive through for his second try of the afternoon. Then Bell hit the visitors with try number eight, converted by Josh Jones.
The home side were intent on maximising their position and continued to batter the Bromsgrove defence.
A superb break by Brad James, supported by Gray and Reed almost resulted in another score, however, stopped initially, Leamington did gain a scrum.
From this good attacking position, the home side took possession and patiently chipped away at the visitors defence, before McKowen, capping another outstanding personal performance, spotted a gap for his side's final try. Jones completed matters with the conversion.