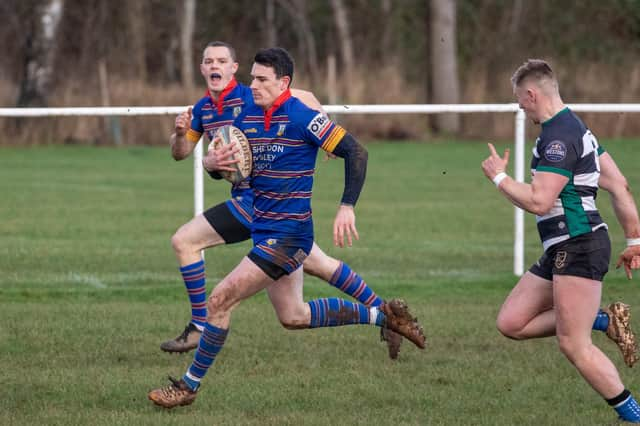 Leamington certainly hit the ground running with Jim Reed's strong run testing the visitors' defence.
But the hosts went ahead on five minutes when Ed Gray went over after a Rich McKowen pass following a fine counter-attack. McKowen adding the conversion.
Things soon got worse for the opposition when they were hit with another converted score. Working near the halfway mark, they sent out a pass that was intercepted by the alert McKowen who needed no further prompting before racing in under the posts, unopposed. Full Back, Josh Jones stepped up with the conversion to get maximum return.
Despite these setbacks, Ledbury started to show signs of a response and began to ask questions of the Leamington defence. Jim Reed halted one attempt with a robust tackle and Harry Johnson hit the opposition with at least three successive hits in midfield to halt their attacks.
The latter led to a scrum for the visitors, in the Leamington 22 area, which they lost against the head. Scrum Half, Chris John and Fly-Half, Sam Nunn, exchanged quick passes before the latter set Rich McKowen away down the nearside touch.
Once again, McKowen's devastating pace opened up the Ledbury defence and as the opposition tried to close the run down, the Centre fired out a neat pass to Gareth Shuttleworth, one of the few able to match the speed of the counter-attack, who was in under the posts at the blink of an eye. Jones completed matters with his second conversion of the afternoon.
Although now three scores adrift, Ledbury, in the final embers of the half, once again showed signs that they had plenty of gas left in the tanks.
The second half confirmed earlier indications of a Ledbury fight back and the home side found themselves having to dig deep in defence, to halt wave after wave of attack.
For the most part, this was successful as they only conceded two scores, one of which was converted. This was in no small part a triumph for the home side, as the pressure they had been under was intense.