Lillington Free Church A seal big win over County Council Bats
Lillington Free Church A moved to third spot in Division 1 of the Leamington Table Tennis League after defeating a strong County Council Bats side 8-2.
Watch more of our videos on Shots! 
and live on Freeview channel 276
Visit Shots! now
Lee Dorning grabbed a hat-trick and the doubles with Jack Green. Green and Sam Weaving each won two, both losing to Martyn Todd but Green will have been relieved to claim family bragging rights after beating his Dad Nilton 13-11 in the 5th.
In Division 2 second placed WCC Coots were held to a draw by Rugby C. Arun Jogi won his three and Mark Freeman and Cliff Jackson both chipped in with singles. Daryl Burgess overcame Jackson 11-9 in the 5th when posting a brace. Marina Ndumengo also won twice and joined Burgess to win the doubles.
Nomads Codgers moved up to second in Division 3 after trouncing WCC Dinos 8-2. Les Hoggins and Kim Wong secured 7 of the points and Kevin Finn added a single. Jason Grey and William Hung responded with singles.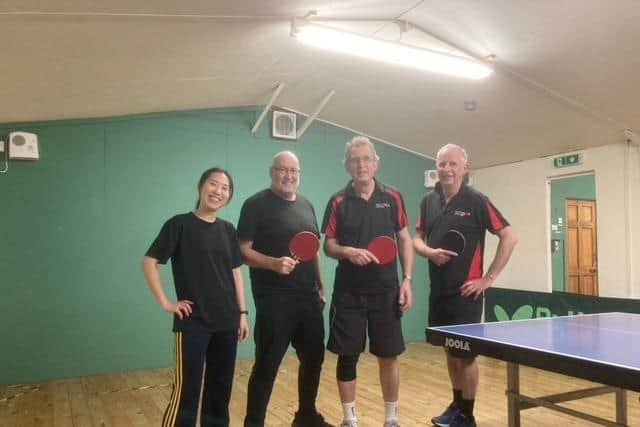 Ashorne B maintained their quest for the Division A title with a 4-1 win over WCC Flounders. Richard Grover led the way with two wins, Alexander Plianos contributed one, losing to Andy Caine, and the pair took the doubles in 5.
Radford A are 5 points adrift of leaders Free Church I in division B with a match in hand. They beat Free Church K 4-1 with Gary Edwards winning both singles and the doubles with Ian Ogden, who won once. Chris Bosworth prevented the whitewash.
Another Radford side are going well in Division C with their B team moving second after dispatching Eathorpe G 4-1. Boye Cho won her two, Mo Eissa added one and the pair triumphed in the doubles, winning 12-10 in the 5th. Dave Hawker got the villagers' consolation (photo attached).
There were a couple of firsts in the Division D clash between Free Church P and Eathorpe I. The Church's girls Keerthi Bakthisaran(2) and Vishwa Modi (1) powered to a 4-1 victory. They also combined for the doubles, giving the team their first win of the season. In response young Luke Hadley gained his very first League success, hopefully the first of many!!
Returning to Division 1 there were two draws. County Council A forced a stalemate when entertaining Colebridge A. Craig Allen won his three for the visitors and was aided by Mike Rinnhofer who beat Chris Brewer 11-9 in the 5th and Chris Maiden 12-10 in the 5th. Niall, Herbert responded with a brace and the doubles with Brewer. Brewer and Maiden both posted singles. St Georges B drew with their A team. B's Mark Jackson continued his excellent early form with a treble, Mark Rose won one and the pair took the doubles 3-0. Tony Deren (2),Laurence Sweeney (2) and Damon Fenton (1) ensured parity. The teams sit first and second.
Rugby B are 4th beating Wellesbourne 7-3. Adrian Pilgrim and Tomas Jacko won all their points with Alan Cotton, Steve Cull and Gary Stewart all winning one in reply.
Free Church D improved their position in Division 2 to 4th after crushing Warwick University A 9-1. Jeff Harris and Owain Jones won triples and the doubles and young Ollie Endersby won twice, losing to Izzy Khan. Whitnash A pipped Free Church E 6-4. Richard Smith starred for the winning team with a hat-trick, Andy Coonan supplied two and Dennis Woodhead one. Church's Dan Shaw beat both Coonan and Woodhead by the same 11-9 in the 5th scoreline. Chris Jones won one and Jay Virdi helped Shaw to the doubles.
WCC Flounders walloped Rugby E 8-2 with Andy Caine and Steve Proctor in top singles and doubles form. Jeremy Sampson got the 8th point. Ian Evans and Hurshvardan shared Rugby's points.
Moreton Morrell Tennis Court Club continue to impress in their debut season in Division 3 and overcame Nomads Dragons 7-3. Kannan Nithi maintained his100 % record in singles and Doug Holden emulated him with a treble. The pair also took the doubles. Janice Rowan and Jill and Mike Weaving responded with singles. Eathorpe C moved into the top half of the table with a big 8-2 win over Ashorne A. John Ablett and Darren Hadley were unbeaten and Josh Atkins won twice. Martin Hamer had a single success and Ashorne won the doubles.
Relegation threatened Rugby F edged second placed Eathorpe E 3-2 in Division A. Hurshvardan won twice and partnered Jo Outhwaite to take the crucial doubles. Darren Hadley and Toby John shared Eathorpe's points.
In Division B Free Church I cemented their pole position with a 5-0 eclipse of club mates Free Church L. Alex Bosworth and Sam Groom did the damage.